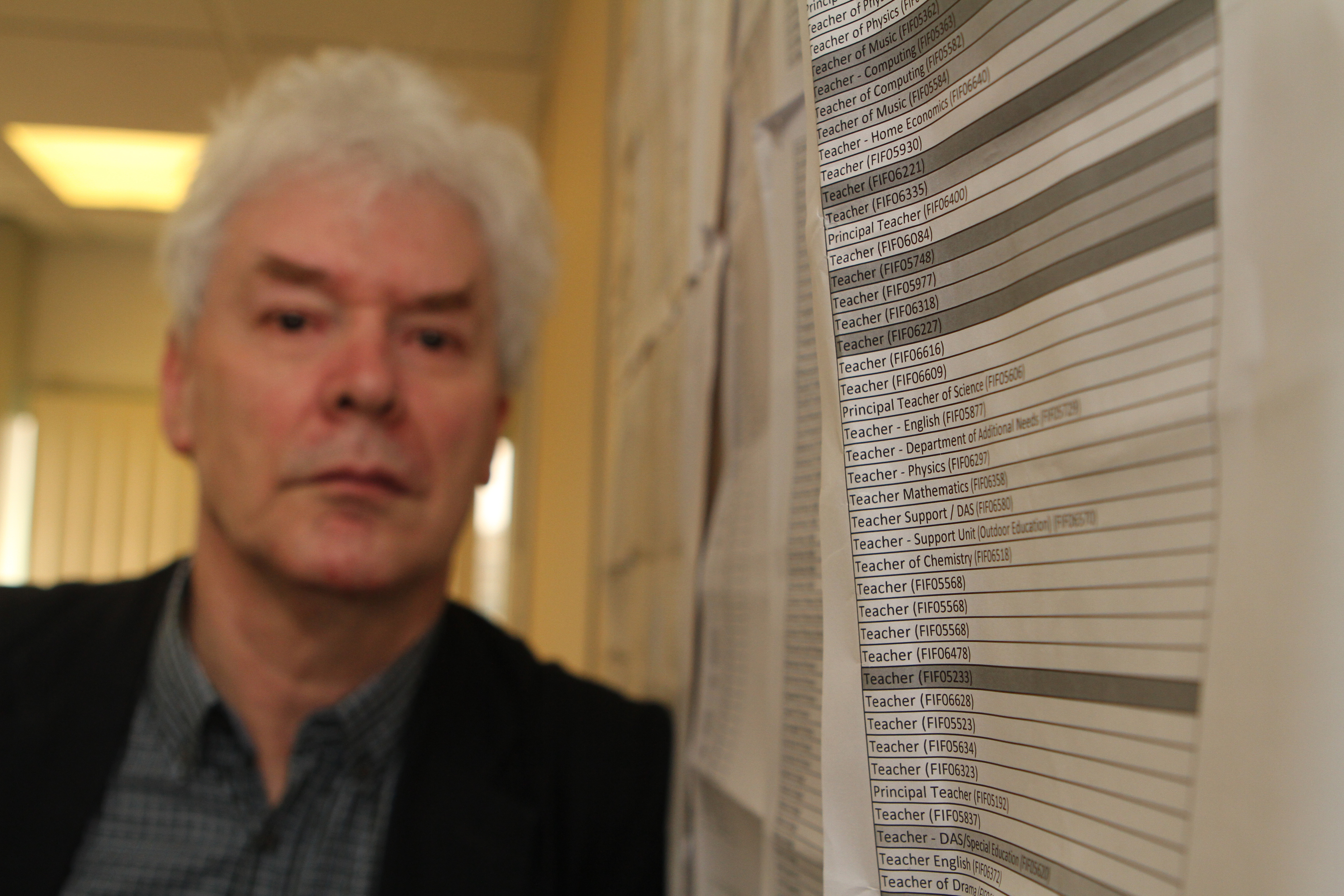 Fife's education spokesperson has claimed that the region's schools are struggling to cope with a "disgraceful" shortage of teachers.
Councillor Bryan Poole said he feared for the future of education across the country unless some sort of action to address the teacher vacancy crisis is taken soon.
Revealing there are currently 259 posts lying vacant in Fife alone, some of which were first advertised six months ago, Mr Poole said many Fife schools were in a situation "a lot worse" than Blairgowrie High School, which launched a desperate appeal for mums and dads with a maths or related degree to help alleviate its staffing crisis.
"It is unfortunate that it takes the shortage of a maths teacher in John Swinney's constituency to highlight the challenge we are facing throughout Scotland with regard to teacher recruitment," he said.
"At around the same time as Blairgowrie High is seeking to replace a maths teacher, Fife Council is sitting with over 250 vacancies in education — many of them vacancies in the STEM subjects including maths.
"I know of pupils in Fife who haven't had an English teacher this session and I know of a number of schools that haven't been fully staffed since last summer.
"Frankly that is a disgraceful position to find ourselves in. I have been banging on about this for months and months as many of my colleagues will be aware.
"I raised it personally with John Swinney in December last year and to his credit he firstly acknowledged the problem, putting it down to poor workforce planning — which I partially agree with — and has now begun to address the problem by increasing the number of trainee places and several other innovative schemes.
"But it takes a few years to properly train a teacher and it is going to be several years before we are in a noticeably better place."
Mr Poole suggested that the situation had been keenly felt by schools right across Fife, although certain parts were worse off than others.
Some schools have been unable to fill up to a dozen posts, with some having advertised for staff in September and October, only to find a dearth of suitable candidates.
"Until we can get more teachers into the system our children's education is going to rely and depend on the goodwill and commitment of our current staff," Mr Poole continued.
"Dedicated as most teachers are there are signs that the pressure they are under is beginning to tell as, through no fault of their own, they are continually having to cover for teacher shortages.
"We are facing a very serious situation.
"We know from an educational perspective that good school leadership, great teaching and great teachers make the biggest difference to attainment in our schools.
"There is therefore a huge irony that just as the Scottish Government provide direct funding to our schools through the Pupil Equity Fund to tackle the attainment gap, there is not a spare teacher in the system to be employed to help tackle the attainment gap.
"The lack of joined up thinking and forward planning with regard to our children's future learning prospects is, in my opinion, the Scottish Government's biggest failure and threatens the very foundation of Scottish education with…the real possibility of those with the financial wherewithal looking at alternative options to educate their children."
A Scottish Government spokesperson said: "The Scottish Government recognises some councils have faced challenges with teacher numbers.
"While teacher recruitment is a matter for local authorities we are taking a number of actions to help recruit and retain teachers,  and widen the pool of available talent.
"To give all our young people the best opportunity of success, we need to have the right number of skilled teachers in our schools.
"That is why the Scottish Government worked with local authorities to increase teacher numbers this year, with an additional 253 teachers in Scottish classrooms, and are increasing student places for the sixth consecutive year, particularly in the subjects where they are needed most.
"The Deputy First Minister has invited a number of new routes into teaching to be developed to increase the availability of quality teachers entering the profession more quickly.‎"