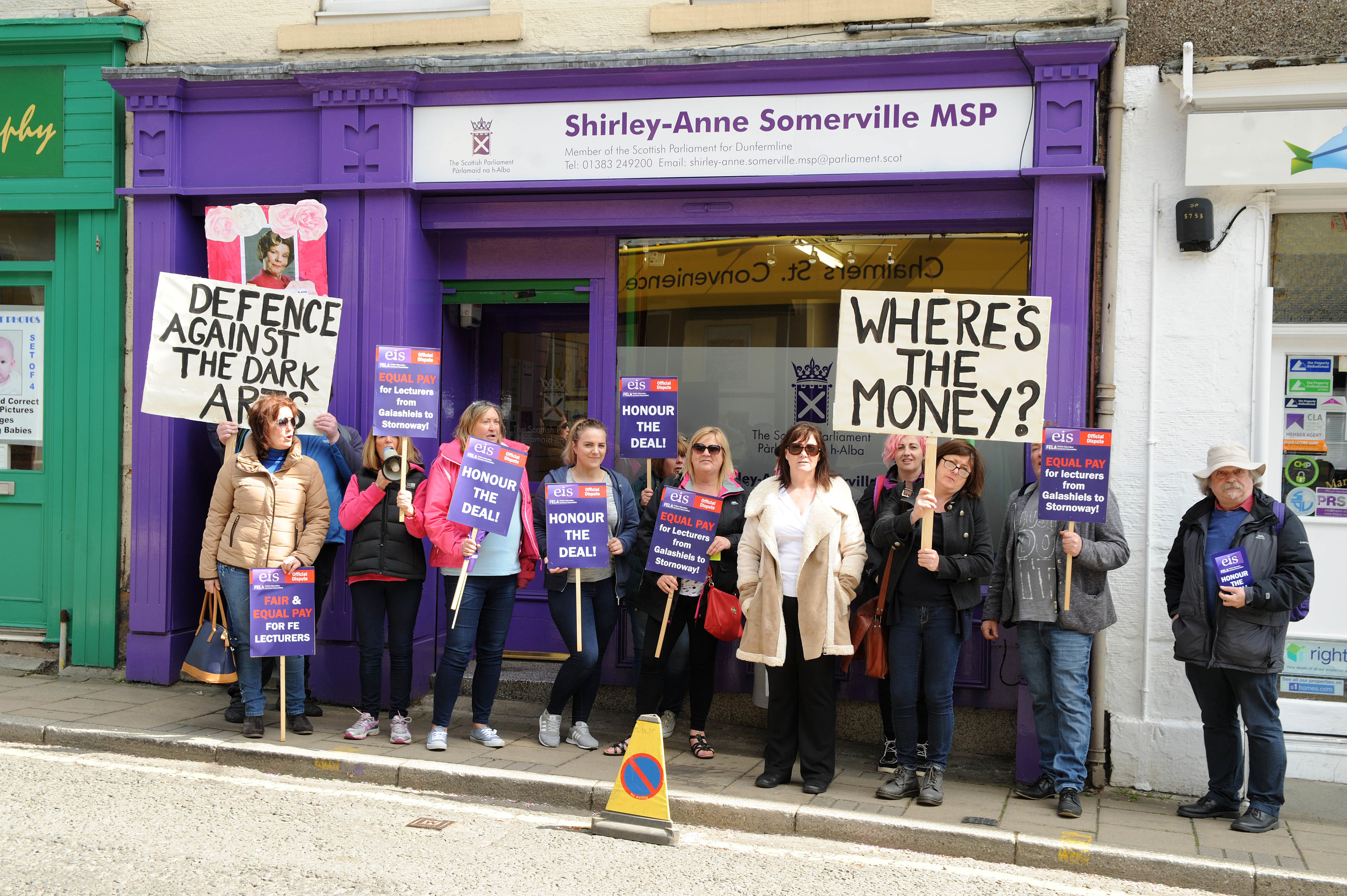 Striking lecturers at Fife College have urged Scotland's further education minister to step up to resolve their dispute over equal pay.
Staff marched on the office of Shirley Anne-Somerville, MSP for Dunfermline, and accused her of failing take action.
Tuesday's protest in Dunfermline's Chalmers Street was the latest move in national industrial action by the EIS-Further Education Lecturers Association, which claims there are widespread disparities in pay at different colleges.
Union leaders allege colleges have reneged on a binding national agreement made more than a year ago to deliver fair pay.
However, the Colleges Scotland Employers' Association claimed it had made a reasonable offer and the EIS was making unreasonable demands.
Negotiations continued on Tuesday but EIS representative at Fife College, Mary Burgess, said Ms Somerville, minister for further education, higher education and science, needed to take leadership.
She said: "Lecturers in Dunfermline doing the same job as lecturers in Glasgow are earning several thousand pounds less a year.
"Colleges agreed to pay harmonisation and a year on they have reneged on this.
"Shirley-Anne Somerville has shown very little leadership on this issue.
"She has not entered into the debate in any way and she is the minister for further education."
Ms Somerville's office referred The Courier to the Scottish Government.
A Scottish Government spokesperson said: "I would encourage both sides to come to a resolution as soon as possible.
"I  want the dispute to be resolved because strike action in our colleges is in no one's interest.
"It is certainly not in the interests of college students.
"Both sides need to continue to work constructively for a solution in order that the sector can focus on delivering the high-quality education that its students expect.
"Having put arrangements in place to allow national bargaining, this firmly remains a matter for the union and college employers to resolve.
"As the First Minister has made very clear, the move to national bargaining is a significant step forward.
"If the government has to step in to resolve those matters, we no longer have national bargaining.
"If we want national bargaining to work, both sides must be prepared to come to a resolution and should be putting all their efforts into getting together, round a table, to find a way forward. I hope that that happens very soon."
A spokesperson for the college said: "Fife College is disappointed at the national strike action.
"We are doing what we can to minimise disruption to our students.
"In the interests of our students, we would urge the EIS to suspend their strike action while national negotiations are continuing to secure an agreed settlement."
The Colleges Scotland Employers' Association said it had offered a salary of £40,000, effectively an average 9% pay increase, with 56 days holiday. The sector norm is 60 days.
Following last Friday's talks, it said: "We have made significant progress and are hopeful that we can enter into renewed talks next week with the aim of breaking
the deadlock."