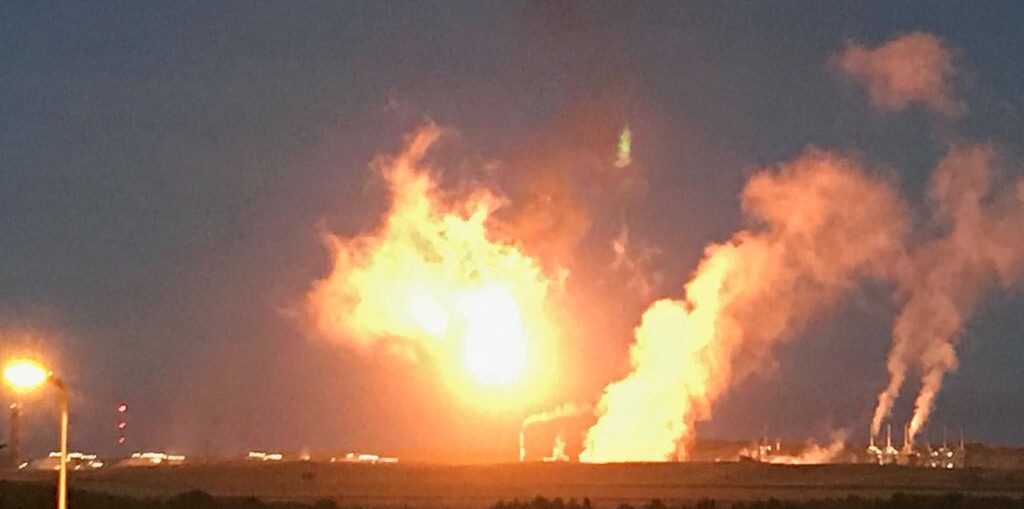 Children were so disturbed by recent flaring at a Fife chemical plant that they wet their beds, it has been claimed.
One boy woke up believing his illuminated bedroom was on fire like scenes he had watched on the news of Grenfell Tower.
He was so frightened he has slept with his parents since the incident a month ago.
Councillor Mary Lockhart said she had heard three reports of bed wetting among local children as a result of the nine days of unplanned flaring at Fife Ethylene Plant at Mossmorran.
Although assurances have been offered over the years about air quality and pollution levels from the plant near Cowdenbeath, she said it was time that the social impact and affect on mental health was assessed.
Ms Lockhart said she found the stories she had heard of children wetting the bed "very upsetting".
Flaring is part of the safety system of the plant, operated by ExxonMobil and Shell, and those who live around it regularly have to put up with the noise and nuisance it causes as a massive flame, visible for miles around, illuminates the night sky.
However, two episodes in quick succession last month caused particular alarm and have magnified concerns about the potential impact on those in the surrounding communities, including Cowdenbeath, Lochgelly and Auchtertool.
People reported their homes vibrating and a rumbling noise which sounded like a jet engine.
Scottish environment agency Sepa said it received 80 complaints in relation to the episodes, the second of which saw thick, black smoke belch into the atmosphere.
Ms Lockhart said she visited 17 homes during the flaring, which occurred from June 12 to 17 and June 18 to 20, to see first-hand how people were suffering.
She said: "I heard three bed-wetting reports.
"A child was left screaming in the night and ran out of his bedroom.
"He had wet the bed and has been wetting the bed ever since.
"He had been watching footage of the Grenfell Tower fire on the news and had a bad dream.
"Then he woke up and found his bedroom apparently on fire.
"That child is now still sleeping with his mum and dad."
She said the flaring had been an upsetting experience for many and added: "The incident may have lasted for only nine days but the impact is going on."
Ms Lockhart spoke out at a recent meeting arranged by the newly-formed Mossmorran Action Group to allow people to air their concerns.
She said: "For nearly three decades the assessments have focussed on air quality and pollution.
"A couple by the local health board have looked at health impacts but they have looked at the social impact, they haven't looked at the mental health impact.
"I would be really, really interested to have a serious look, incident by incident."
A spokesman for ExxonMobil said: "We recognise that these events caused concern and inconvenience, and for that we apologise.
"We made every effort to return to normal operations as quickly as possible.
"Many years of rigorous testing by independent consultants on behalf of the Fife Council Mossmorran & Braefoot Bay Independent Air Quality Monitoring Review Group show that the ExxonMobil Chemical Limited facilities at Mossmorran and Braefoot Bay have no significant impact on air quality in the local communities and meet national and EU air quality objectives.
"We appreciate the patience of local residents when such incidents occur.
"We do all we can to avoid them, to minimise the inconvenience when they do and to learn from every incident."