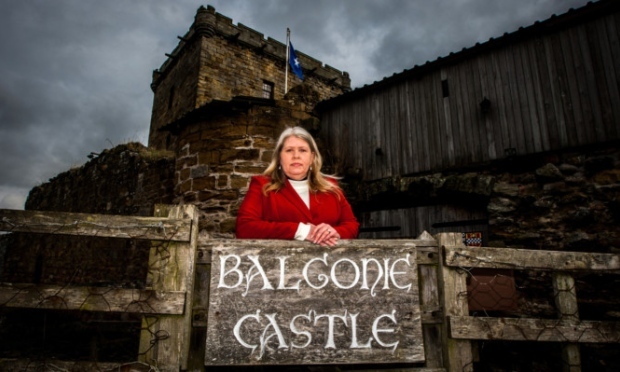 The events planner at the centre of the Balgonie Castle "bridezilla" row has decided to take a step back from organising weddings.
Kelly Morris of Balgonie was embroiled in a social media storm last week after Facebook exchanges with brides-to-be escalated and were shared thousands of times.
But the medieval castle's website confirmed  that there has now been a change of management, making it clear that Mrs Morris is no longer in charge of weddings.
Mrs Morris was branded "unprofessional" and "nasty" after divulging details about bride-to-be Henia Roy's wedding package many considered to be private.
Her remarks, in which she stated she "did not have the patience to deal with Bridezillas", sparked a campaign to boycott the 700-year-old venue near Markinch.
However, things turned more sinister and police are continuing to investigate threatening communications received by Mrs Morris in the wake of last week's events.
Mrs Morris confirmed  that her husband Stuart is dealing with all weddings and events from now on, while the tourism will be done by her father-in-law Raymond Morris.
"This is not because I was sidelined, it was my choice," she said.
"I have been asking to be replaced ever since the October 2014 experience.
"I am still and always will be the Lady of the Castle. No amount of bad press can change the fact."
Mrs Morris was referring to what she described last week as a "horrifying event" in 2014 when a drunk guest allegedly hit her.
"Since this time, I have been very leery of dealing with wedding packages," she said.
In light of a reported death threat received last week, the family was advised by police to keep CCTV running and put the castle on "lock down".
The news comes after 85-year-old Raymond Morris, the Laird of Balgonie Castle, apologised for being "unprofessional towards any client" and expressed sadness at the "hate-related mentality" some had shown on social media.
"From what I hear and read, social media contains too much negativity," he said.
"It is too easy for anonymous people to be anti-social, prejudicial and all the hate-related mentality which only feeds their ego."