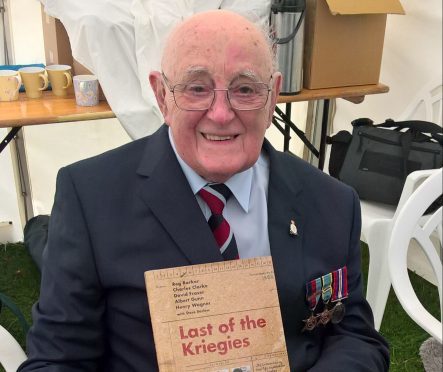 The extraordinary story of a Fife airman captured and sent to a prisoner of war camp has been published in a new book.
Albert Gunn, 93, has recounted the trials and tribulations he faced in The Last if the Kriegies.
The Church of Scotland elder, just 18 when he joined the RAF as a gunner, took part in many daring bombing missions over Germany.
In the book, the Burntisland man describes the extreme danger he faced after the Halifax heavy bomber suffered catastrophic engine failure during a raid on Berlin in December 1943, forcing the crew to bail out.
He parachuted into hostile territory and like thousands of stricken airmen, was seized as a Kriegsgefangener — a prisoner of war — nicknamed a kriegie.
Mr Gunn, who originally wanted to be pilot, recounted trouble started near the Dutch-German border when an aircraft was attacked by a fighter and returned fire.
Flack damaged his bomber and caused  engine failure. The crew "realised we were in serious trouble".
"I slipped on the chute and to my horror the pack landed on the floor, having pulled the straps, which in theory do not come undone until after the parachute opens.
"It only seemed seconds after my parachute opened that I heard the aircraft seemingly coming back towards me, but in actual fact it was going in a dive toward the ground, which it hit with a tremendous explosion."
Mr Gunn landed with a thump, on a rain-lashed night and tried to hide.
The former session clerk at Burntisland Parish Church realised he was being followed.
Soon a torch was shone in his face and rifle thrust against his chest.
He was eventually taken to a POW camp near a town called Muhlberg, around 35 miles from Leipzig.
He and the other prisoners were liberated by Americans and Russian troops in April 1945.
He continued working till he was 85.
His story is one of five recounted by British airmen in the book.
Mr Gunn's daughter, Rev Gillian Paterson, said she was immensely proud of her father, who weighed less than seven stones when he was released.
"This is a long held dream that has been realised in seeing my dad's story published," said the minister of Wellesley Parish Church in Methil."
Around 125,000 airmen served with Bomber Command squadrons during the Second World War and almost 60% were casualties.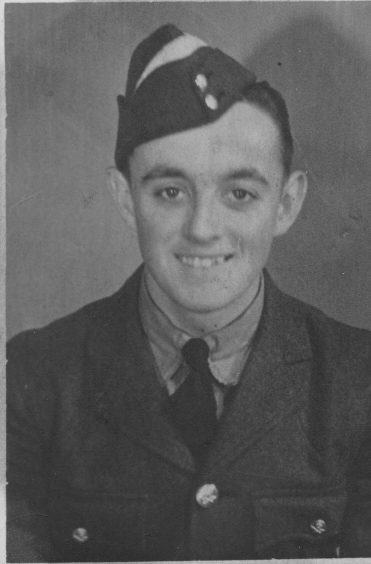 Mrs Paterson said: "Dad's faith helped him greatly while he was in captivity and has been at the forefront of all he has done in his personal life, working career and church service."
Mr Gunn said: "I loved my time in the RAF, apart from being shot down.
"The war happened, I wanted to do my bit and I have no regrets. I don't hold a grudge against anyone involved in what happened to me while I was a POW in Germany."
Copies of the book will be signed by Mr Gunn at Chapter and Verse in Burntisland at 10.30am on Saturday, October 14.