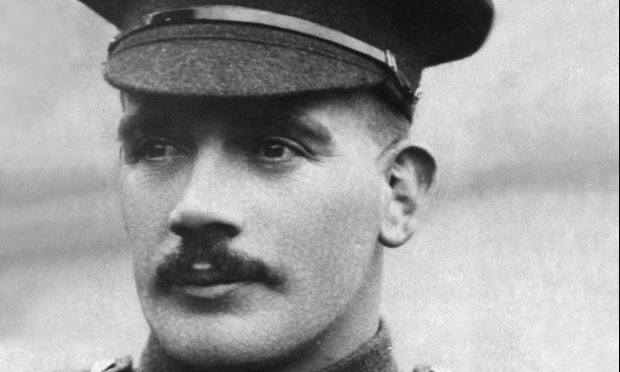 A Fife war hero decorated for bravery is to be honoured a century after his revered act.
Sergeant John McAulay was one of just five Fifers awarded the Victoria Cross for their actions during the First World War.
Under heavy fire, he carried his fatally-wounded commanding officer to safety, rising to his feet twice after being knocked to the ground by exploding shells.
Two German soldiers tried to intercept his daring rescue of his commander, who had taken bullets to his leg and back, and he shot them with his revolver.
He took charge of his Scots Guards company and rallied his comrades to hold and even gain ground.
A commemorative stone will be unveiled in Kinghorn on November 26, 100 years after McAulay displayed "most conspicuous bravery and initiative in attack" — as the London Gazette reported at the time.
Descendants of McAulay from as far afield as Australia and South Carolina will attend the ceremony.
McAulay already had citations for bravery, holding the Distinguished Conduct Medal, when his company came under enemy counterattack in Fontaine Notre Dame, in France, on November 27, 1917, during the Battle of Cambrai.
Alan McIravie, provost of the Royal Burgh of Kinghorn Community Council, said it was a wonderful honour for the town to be linked to a real war hero.
He said: "Kinghorn has embraced the fact that a son of Kinghorn went into the First World War and not only did he distinguish himself by being awarded the Victoria Cross but he was a man of such outstanding character, courage and leadership, revered by others.
"That someone born in our village went on to do what he did and save so many lives is humbling."
McAulay, who later rose to the rank of inspector in the police force in Glasgow, was presented with his Victoria Cross by George V at Buckingham Palace.
The former miner died at his home in Glasgow in 1956.
A service at Kinghorn War Memorial at 12pm on Sunday, November 26, will also be attended by members of the Scots Guards and the Scots Guards Association.