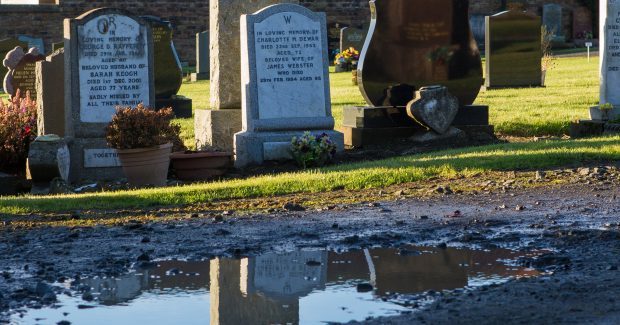 Flooding around the graves in a Fife cemetery will finally be tackled thanks to a £26,000 upgrade.
Councillors have agreed to renew the access road and paths within Kennoway cemetery following years of complaints from people visiting the graves of loved ones.
Fife Council's Levenmouth area manager Dave Paterson said the path network was in a "significantly poor state".
"It's very emotive because there's flooding around the graves," he said.
"This is a good project and it's fairly straightforward overall."
Members of Levenmouth area committee have agreed to allocate £20,000 towards the work. The remaining costs will be covered by bereavement services.
Mr Paterson warned only half the required work will be done in the current financial year and a similar sum will be sought next year to complete the upgrade. He said this would ensure the cemetery remains at an acceptable standard.
"The issue of capital upgrade at this site along with the ongoing problem of water pooling exacerbated by the topography of the land has been an ongoing concern for local people in Kennoway," he said.
"This issue has been a recurring matter being dealt with by members as part of their constituency work.
"The current facilities are of a poor quality and this work is proposed as an investment in improving the longer-term amenity of this site."
Mr Paterson added: "Local communities invest a considerable amount of emotional capacity into cemetery sites and members in both Levenmouth wards have expressed their desire to ensure that facilities available to the communities of Levenmouth are comparable to those on offer to any locality within Fife."
Committee convener Ken Caldwell said the upgrade was one that should be undertaken.
"It's a very emotive subject when you speak to people with relatives there," he said.
At the start of November it was revealed Fife Council had drawn up a £400,000 list of priority upgrades at 11 cemeteries across the region.
This followed inspections that showed up to a third of headstones in some graveyards were unsafe.
Kennoway cemetery is not on that list and the work there does not relate to dangerous headstones.