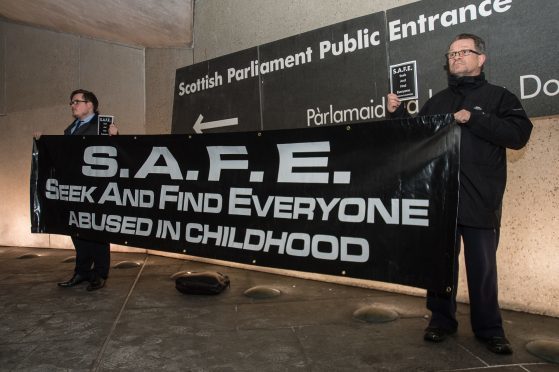 An abuse survivor has pledged to camp outside the Scottish Parliament for as long as Kezia Dugdale remains in the Australian jungle.
Dave Sharp, who was repeatedly beaten and raped when he was a pupil at Falkland House School in Fife, launched his one-man vigil on Tuesday as the Scottish Child Abuse Inquiry restarted.
He said his aim is to raise awareness of the plight of survivors and persuade MSPs to  encourage more people come forward and to seek support.
Mr Sharp was critical of Ms Dugdale, who is currently taking part in ITV reality show I'm A Celebrity Get Me Out of Here in Australia.
"She has ignored many emails I have sent her and many other politicians so for the duration of the time she is taking part in a demeaning reality show in Australia for a handsome fee, I will be mounting a vigil outside Holyrood," he said.
"I am doing this to show the commitment of survivors to their cause and also to remind all MSPs that helping survivors and working for greater child protection is one of the most important issues facing this country, not eating bugs with reality TV and soap stars."
A spokesperson for Kezia Dugdale said the former Scottish Labour Party leader fully supported the child abuse inquiry and all efforts being made to support survivors of historic abuse.
It is understood she was the only party leader to respond to Mr Sharp's correspondence regarding a similar vigil earlier this year.
Mr Sharp, who was the first person in Scotland to win compensation from the notorious Christian Brothers after a 40-year fight for justice, claimed more needed to be done.
"Given the lack of help from Scottish politicians I am particularly disappointed with Kezia Dugale who, while still Labour leader in Scotland, gave me an undertaking when I met her at the BBC studios earlier this year that she has been doing everything she could and she would continue to push the Scottish Government to help more survivors to come forward," said Mr Sharp.
Ms Dugdale's spokesperson said: "It's important that anyone who suffered abuse in Scotland is supported in providing evidence to the inquiry to help deliver justice for the victims of abuse.
"Scottish Labour's education spokesperson Iain Gray MSP, who leads for the party on issues of historic child abuse, has met with Mr Sharp a number of times previously and continues to engage with him and his organisation SAFE.
"Kezia Dugdale is committed to being an open and accessible MSP and will be hosting public advice surgeries in the Scottish Parliament for constituents following her return to Edinburgh."