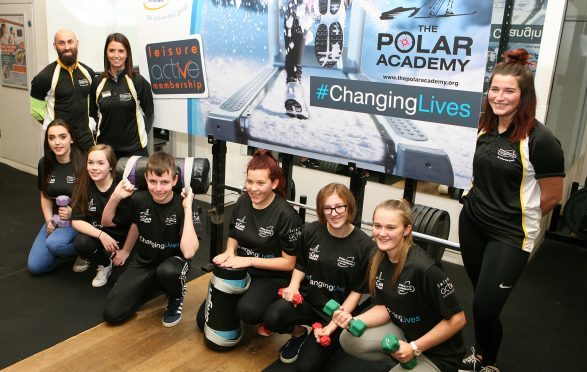 Lochgelly High pupils and staff are embarking on a life-changing journey.
Ten pupils, aged between 14 and 17, and the headteacher are embarking on an expedition in the wilds of Greenland as part of a unique project which aims to help youngsters experiencing issues with confidence and low self-esteem.
The 12-day expedition is being made possible thanks to the Polar Academy, a charity which each year gives young people the opportunity to take part in such an experience.
The charity works with Scottish schools to select candidates most likely to benefit.
The Lochgelly High team will receive support from Fife Sports and Leisure Trust with Leisure Active memberships so that they, and a parent or guardian, can access facilities free of charge and train to meet the physical challenges of the expedition.
Area leisure manager Sharon Johnstone said: "The trust is committed to getting more people more active more of the time, and in particular, sees fostering a positive attitude to physical activity in young people as a good way of developing a lifelong interest in keep active."
Headteacher Carol Ann Penrose added: "We were delighted to have been chosen as the Polar Academy School for Scotland.
"This is a chance in a lifetime for our young people and ties in directly with the school's core message to our young people, which is that with hard work and self-belief you can achieve anything."
Having work with the Polar Academy team since June, she said the difference in the young people's confidence, resilience and fitness levels could already be seen.
"This generous offer from Fife Sports and Leisure Trust will only help us even further and we are extremely grateful for their support."
Academy founder Craig Mathieson said: "For me personally, it's a true privilege to work with the pupils, parents and staff of Lochgelly High School.
"The pupils are currently going through an extremely intense fitness programme, helped enormously by the amazing staff at Fife Sports and Leisure Trust.
"Once complete, they will embark on an expedition which will totally change their perspective on what can be achieved in life.
"They will return as true role models for their community, able to clearly show their peers that they too can achieve great things if they are willing to put the hard work in."