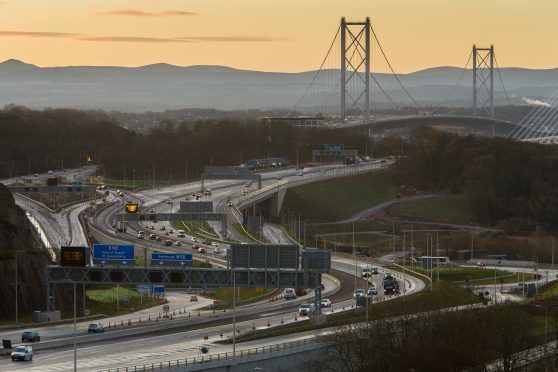 There were major tailbacks after an accident blocked the Forth Road Bridge on its reopening to general traffic.
The Friday morning rush hour had passed without incident as snagging work on the Queensferry Crossing got started.
Until the work is complete, on December 6, southbound traffic is being diverted across the Forth Road Bridge while northbound traffic uses the new bridge.
But there were problems for travellers when two cars were involved in a collision at around 9.15am on the southbound route. The occupants of both cars escaped injury.
❗ NEW ❗

The Forth Road Bridge is restricted southbound in lane two of two due to a road traffic incident #edintravel @kingdomfm pic.twitter.com/TkS9WGaYjq

— Traffic Scotland (@trafficscotland) December 1, 2017
Some motorists travelling south from Fife reported journey times of up to an hour to get to South Queensferry.
Following the collision, Traffic Scotland announced that a lane on the Forth Road Bridge would have to be closed at 1pm to carry out a minor repair, adding to the delays.
A short southbound nearside lane closure is to be implemented on Forth road Bridge to carry out a minor defect repair at 1pm @theforthbridges

— Traffic Scotland (@trafficscotland) December 1, 2017
Queensferry Crossing was partially closed from 10pm on Thursday to allow work to resolve snagging issues to go ahead.
There was a problem with the tarmac around the £1.35 billion bridge's expansion joints, described as a workmanship error.
On Friday morning, commuters reported few delays, with some saying their journey to work had been quicker than normal.
Stein Connelly, Transport Scotland's Traffic Scotland operator manager, said: "We're monitoring the traffic travelling over the Queensferry Crossing and the Forth Road Bridge and at 7.30am this morning and I'm happy to say that the southbound traffic that's diverted over the Forth Road Bridge is running free-flow.
"There's no delays and there's no queues. We would like to thank people for their patience, spreading their journeys, and coming out earlier and allowing this morning's rush hour to be less problematic than we would expect."
The Forth Road Bridge has been a dedicated public transport route since the Queensferry Crossing opened at the end of August.