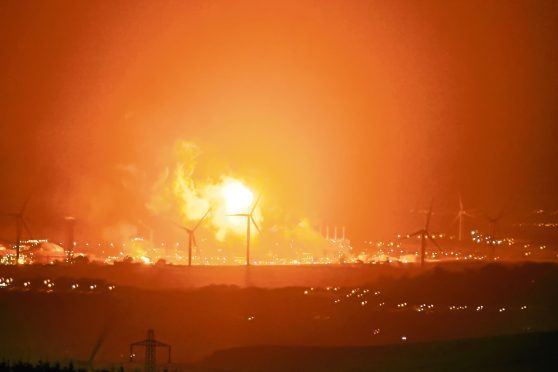 Fresh concerns have been raised about the impact of Mossmorran on communities after new figures revealed a more than fourfold increase in flaring at the site in the past decade.
Data published by the Scottish Environmental Protection Agency (SEPA) showed the number of flaring incidents at the plant has gone up from 39 in 2008 to 181 in 2016, with the total volume of gas flared last year over 10,000 tonnes more than the volume flared eight years ago.
This comes after research earlier this year which showed the Fife site is now the second biggest emitter of carbon dioxide in Scotland following the closure of Longannet Power Station.
With Mossmorran coming under renewed scrutiny following prolonged periods of unplanned flaring in June and October, Mark Ruskell, Green MSP for Mid-Scotland and Fife, said the data made for "sobering reading" for communities and called for greater transparency in relation to operations there.
"SEPA and the plant operators have repeatedly said flaring is part of the routine process at the plant, but when a 'routine process' increases over fourfold in less than a decade there are some serious questions that need answering," he said.
"Burning off gas in such a visible way is obviously going to raise concerns about air pollution and climate change emissions, but on top of this local people repeatedly report to me the disturbance in their lives caused by noise, vibrations and light pollution during flaring incidents.
"I welcome this better data on flaring, but what we need to see next is a more focused assessment of how these wider impacts are affecting local communities.
"The community and safety committee run by the plant operators is supposed to be the main liaison group, but this committee meets behind closed doors and has a poor track record of publishing minutes.
"Local people have told me they have lost faith in this committee, so it's time we revisit how the plant operators discharge their responsibility to those communities living around the site."
A spokesperson for ExxonMobil, which operates the Fife Ethylene Plant (FEP), said: "FEP is one of the most modern and efficient plants of its type in Europe, and we conduct continuous maintenance to ensure safe and environmentally responsible operations of the plant.
"Every few years, we conduct more intensive maintenance utilising the latest technologies.
"This investment in the plant's future operations carries the occasional need for longer than normal periods of flaring in order to enable the planned maintenance work to be completed safely.
"FEP's largest emissions correspond to years in which such planned maintenance has taken place – and SEPA's figures reflect this.
"Flaring is safe – the flaring equipment is designed specifically to handle excess hydrocarbons safely.
"It works in a similar manner to a safety valve on a central heating boiler, and is an established precautionary mechanism used worldwide in petrochemical plants (such as FEP) and refineries, to help reduce gas pressure from the plant by safely processing hydrocarbons.
"We regret any concern that flaring may cause. We minimise flaring where possible, and make every effort to restore operations as quickly as we can."
The spokesperson added that the plant continues to meet the highest standards of regulation.
"Testing by Fife Council's Independent Air Quality Monitoring Review Group has consistently concluded over the years that the operations of FEP continue to pose no significant risk to the health of members of the local community," they continued.
"Over the 28 years that it has operated, the group has consistently recorded acceptable air quality in the communities around FEP."