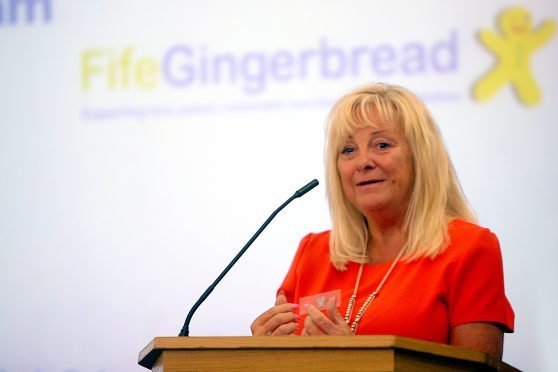 Two Fife teenagers have lodged cases against absent parents to claim their share of a huge £17.6million owed in child maintenance back payments in the Kingdom.
The two separate cases, both involving 13-year-olds, have prompted lone parent charity Fife Gingerbread and Lesley Laird, MP for Kirkcaldy and Cowdenbeath, to call for a complete overhaul of the Child Maintenance System (CMS).
As part of welfare reform measures in 2012, CMS replaced the much-criticised Child Support Agency (CSA) but introduced a £20 application fee and collection fees for both parents — a fee which is waived if the applicant is under 19 years of age.
This has led to the largely unknown method of children pursuing their own child maintenance, with Citizens Advice and Rights Fife (CARF) supporting the two 13-year-old claimants — in one case because the parent simply could not afford to pay a £20 application fee.
"Is this really the best we can do?' said Rhona Cunningham, chief executive of Fife Gingerbread.
"Are we really reduced to kids having to make a claim for their own child maintenance?"
The UK government launched a consultation on December 14 to "inform the government's new child maintenance compliance and arrears strategy" but Fife Gingerbread claims the launch had very little publicity.
While the government claims the consultation will build on an already improved system, One Parent Families Scotland submitted evidence to the Work and Pensions Committee inquiry into child maintenance that 78% of the 100 parents they surveyed believe the CMS is performing poorly or worse than CSA.
In the financial year 2016/17, £110m was due to be paid on CMS collect and pay cases, of which only £56m was collected, despite parents paying an application fee.
Ms Cunningham added: "By the government's own admission, in the CMS 30 month review, the CSA 'was failing parents and children'. We cannot see how this system is any different.
"A closer look into the CSA shows that there is still a staggering £2.5bn debt owed to parents over 970,000 cases, with the consultation stating 'the vast majority of the debt is now considered uncollectable'.
"Is the £54m from 2016/17 also considered 'uncollectable'? What is being done to ensure that this time next year there isn't £100m owed to parents on the new system?
"In Fife, the outstanding amount of child maintenance arrears in 2013 stood at £17.6m. That figure has only increased."
In tandem with the consultation, the government has announced it will grant CMS new powers to remove passports from non-compliant paying parents for up to two years.
CMS has existing powers to take away driving licences, instruct sheriff officers to seize belongings or even threaten imprisonment but – to date – Fife Gingerbread is unaware of any statistical evidence supporting the use of such enforcement options.
"We can only assume the government does not use these methods to enforce collection, so adding passport seizure appears to be nothing more than an attempt to make headlines and shift the focus away from the failings of the CMS," said Ms Cunningham.
"Child poverty is on the rise and there's absolutely no sign of anyone having the backbone to stand up and say non-payment of child maintenance could be a major factor, so therefore could be part of the solution — something needs to change soon and dramatically.
"Scandinavian countries have a system where lone parents claim from the government who then collect the debt — this ensures children are provided for properly."
Mrs Laird said she will be writing to Work and Pensions Minister David Gauke to remove the barriers which are preventing claims being taking forward.
"It's disgraceful that we have a government-backed system which charges the parent/carer, with no guarantee of any future child maintenance payments from the absent party," she added.
"Shamefully, here is a system which in some instances is forcing young children to become the claimant. Can you imagine a situation where a child is sitting in class at school and receiving calls from the CMS? Because that's what would happen."
The consultation can be accessed via https://www.gov.uk/government/news/child-maintenance-consultation-launched.