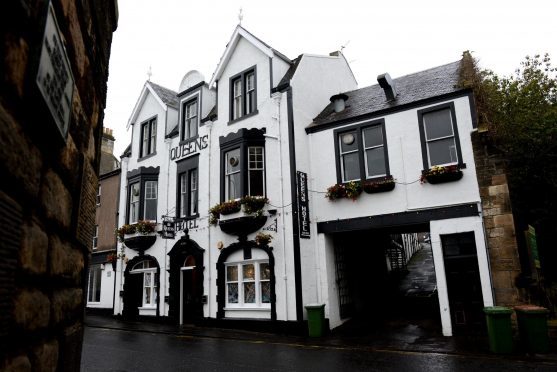 Controversial plans to redevelop one of Inverkeithing's most prominent sites have been given the green light, The Courier has learned.
Council officials have rubber-stamped proposals to convert the iconic Queens Hotel in Church Street into flats and shop units after just two letters of objection were lodged by local residents.
The blueprint has been knocked back twice before in recent years, firstly in 2008 when the former South West Area Committee said it would have a detrimental effect on the vitality and viability of the town centre, and then again in 2014 when the applicant failed to conclude a legal agreement relating to a financial contribution toward education provision, affordable housing and play area provision.
Despite that though, the plan has been revived and has now been given the go ahead by planning officers — despite some local concerns.
The proposal will see the Queens Hotel's notable façade retained but most of the building converted into five upper flats and two shops or offices on the ground floor.
The rear of the hotel will, however, be knocked down and replaced by a three-storey terrace of 11 flats and associated car parking, while the neighbouring building at 2-6 Church Street will also be demolished to be replaced by two shops with six flats above.
Planners have given the go ahead subject to conditions, saying the "respectful" contemporary and traditional design of the development will have a "positive contribution to the immediate historical surroundings".
Not everyone is happy with the transformation though.
One of two formal objectors described the proposal as "unsustainable" and said it sought to "maximise financial gain by overdeveloping a small pocket of land in an already built up area".
"Housing may be a concern for Inverkeithing, however, this application is not the solution for this particular space," the objector added.
"There are several other sites that are more suitable for the development of housing than this proposal.
"Removing the hotel as a business will have a negative effect on the viability of the High Street in terms of economic growth and drawing locals and tourists into the High Street as a whole
"The character of the High Street will not be enhanced by this proposal.
"I also do not believe that such a proposal would see the light of day in other coastal towns such as Culross, Aberdour or Limekilns, where conservation areas seem to carry more gravitas than in Inverkeithing even though historically Inverkeithing has been a Royal Burgh since 1145."
The Queens Hotel was granted C-listed status in 2004 and is one of the few high Victorian facades to have been retained in the town.