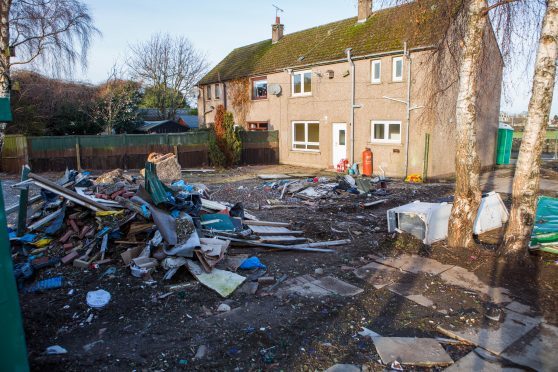 Neighbours of a Fife house compared to those on BBC's A Life of Grime documentary have complained that the clean-up operation has halted.
The garden of the council-owned property in Kettlebridge remains a mess, it was claimed, with gas cannisters, old fridges and skips full of rubbish.
Fife Council workers and contractors spent several weeks clearing out and completely renovating the four-bedroom house in North Street after it became vacant.
The house was badly damaged and the garden, fenced off from view for years, was full of old cars, scrap and freezer-loads of rancid meat kept to feed birds-of-prey.
However, neighbour Dave Pullar claimed the job had been abandoned a couple of months ago and there remained "rubbish everywhere".
He said: "It's an eyesore. There are three skips and there are still old fridges, freezers and gas bottles sitting there.
"It's been easily eight to 10 weeks and no one has been out.
"People have been asking what's going on."
Local councillor David MacDiarmid said the delay in dealing with the property was a scandal.
He said: "When I was there in September the house was almost ready so I don't know what's happened.
"Bairns are having to walk past there on their way to and from school and the people of Kettle have had to put up with this for far too long.
"It's an empty house sitting there and I would like to see a family in real need of housing, perhaps a Syrian family, in there."
Neighbours were horrified when the fence was pulled down to see the extent of the scrap amassed by the former tenant over a number of years.
When The Courier visited last September, several workers were removing rubbish from the garden and the interior refurbishment of the house appeared to be nearing completion.
Fife Council described it as an exceptional situation and said it would seek to recover the significant costs of returning the property to a habitable state.
It said work was due to resume on Monday.
Gavin Smith, north east Fife housing manager, said: "A number of different contractors have been involved with repairing this property and grounds.
"The house is now finished and landscaping contractors are returning to site.
"Weather permitting, all work should be finished within the next three weeks."