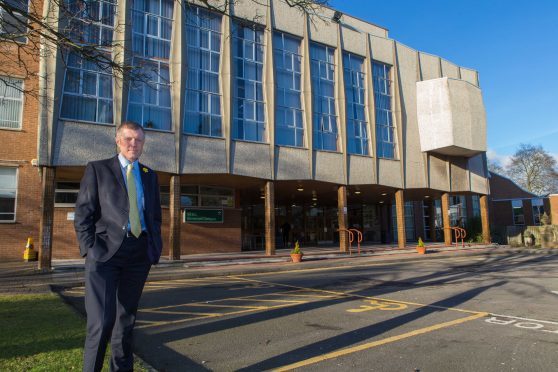 More than £5.2 million will have to be spent on Cupar's ageing college, prompting fresh calls for an entirely new building.
The future of Elmwood Campus has been uncertain since Fife Council announced it was moving 0ff the site more than three years ago.
Sole occupant SRUC, Scotland's Rural College, has said it intends to remain in the town but no decision has been made on the future of the existing building.
A new condition survey by the Scottish Funding Council has now revealed the main building is in need of extensive repair.
North east Fife Lib Dem MP Willie Rennie said a replacement was needed urgently.
He said: "By Scottish Funding Council's own assessment, we need a new college building for Elmwood.
"New investment in a new building must be part of a wider package to inject new life into further education provision in north east Fife."
The survey report said the main building, constructed in 1972, was in poor condition and would require major investment to bring it up to scratch.
It needs £4.2m of maintenance and renewal work. Other properties on the campus, including the sports hall and student residences face also have maintenance backlogs running into six figures.
The report said the college was managing the estate on a short term "fail and fix" basis.
Mr Rennie said future investment should be based on a partnership between Fife College and SRUC, with more students and staff based in the area.
He said: "I have been urging an agreement between SRUC, Fife College and the Scottish Funding Council and have been pleased with the responses so far but we need to reach an agreement soon so we can get on with that new building and new arrangement."
The area's SNP MP Stephen Gethins said the campus was a fantastic asset and added: "The value of having this facility in the heart of north east Fife cannot be underestimated and any investment which allows SRUC – and hopefully also Fife College – to continue this great work is to be welcomed."
An SRUC spokesperson said: "While we have not yet made any decisions about the future of the Elmwood Campus building itself, we are strongly committed to a continued presence in Cupar.
"We will be working closely with local partners to deliver this."
A Fife College spokesperson said: "Fife College is currently in discussion with Fife Council and SRUC regarding the north east Fife provision.
"Conversations have started between Fife College and Bell Baxter High School with a view to  developing a wider range of programmes at the school in Cupar which will  increase provision in the area and maximise learning opportunities for the people of north east Fife."