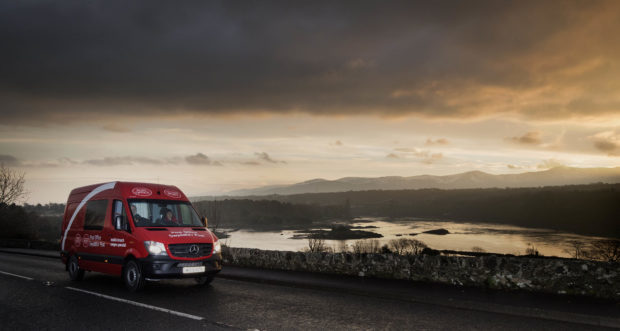 Controversial proposals to use a mobile service to "restore" Post Office services to 11 communities across Fife and Perthshire have been unveiled.
A specially adapted vehicle will visit towns and villages throughout the area, many of which have been without a dedicated Post Office branch for some time.
Crail, Crossgates, Dunshalt, Elie, Lundin Links and Upper Largo in Fife are all in line to benefit.
Dunkeld, Guildtown, Rait, Rhynd and Spittalfield in Perthshire will do likewise if the scheme is approved, with most communities only likely to see the van an hour or two each week.
A six-week consultation has begun, with the Post Office arguing the introduction of a mobile service is a "tried and tested" way of maintaining service to smaller communities without the need for fixed premises.
Kenny Lamont, Post Office network operations area manager, said: "We are confident that these new services will meet customer needs.
"Our priority is to restore Post Office services to these local communities and we believe the establishment of mobile services presents the best possible solution to provide Post Office services to these communities."
The mobile service would be operated by the postmaster from the Kennoway Post Office and would provide a service at a set time each week.
A range of services would be available, with customers able to collect benefits in cash using the Post Office's everyday banking services or Post Office card account.
North East Fife MP Stephen Gethins, who has recently voiced concerns about the loss of Post Office branches in the likes of Crail and Dunshalt, urged people to have their say.
He said: "Many villages particularly those in the East Neuk have lost Post Office services and while permanent Post Offices in fixed locations is far preferable, I would encourage residents to contribute to this consultation.
"Protecting access to post office services is very important to communities.
"Questions asked include how suitable are the locations suggested and how easy is it to get there, are there any other local community issues which may could be affected or affect the proposed change, and do people have any comments on the proposed dates and times?
"The next six weeks offer people an opportunity to have their say and as well as responding to the consultation directly, I would also be keen to hear the views of constituents."
Submissions can be made during the consultation, which will close on March 15, by writing to Freepost YOUR COMMENTS to Post Office Ltd, via email to comments@postoffice.co.uk, via the Customer Helpline on 03457 22 33 44 or Textphone 03457 22 33 55.
Customers can also share their views online through the quick and easy questionnaire at postofficeviews.co.uk with the branch codes: Lundin Links – 711844; Upper Largo – 712844; Elie -713844; Crail – 714844 Dunshalt -715844; Crossgates -716844; Dunkeld – 702820; Spittalfield – 703820; Guildtown – 704820; Rait – 705820; Rhynd – 706820.
Details of proposed services:
Lundin Links Mobile service – Along Links Road, Lundin Links, Fife KY8 6AQ
Monday: 9am – 11am and Wednesday: 11:30am – 1:30pm
Upper Largo Mobile service – Along Main Street, Upper Largo, Fife KY8 6EJ
Monday: 11:15am – 12:15pm
Elie Mobile service – Along High Street, Elie, Fife KY9 1BY
Monday: 12:45pm – 1:45pm
Crail Mobile service – Along High Street, Crail, Fife KY10 3TE
Monday: 2pm – 4pm; Tuesday: 2:30pm – 4:30pm and Wednesday: 2pm – 4pm
Dunshalt Mobile service – Along Main Street, Dunshalt, Fife KY14 7EX
Tuesday: 11:30am – 1:30pm
Crossgates Mobile service – Along Main Street, Crossgates, Fife KY4 8DA
Tuesday and Wednesday: 9am – 11am
Dunkeld Mobile service – North End Car Park, Atholl Street, Dunkeld, Fife PH8 0AR
Thursday and Friday: 9:30am – 10:30am
Spittalfield Mobile service – The Green, Spittalfield PH1 4JU
Thursday: 11am – 12pm
Guildtown Mobile service – The Garage, Main Road, Guildtown PH2 6BS
Thursday: 12:30pm – 1:30pm
Rait Mobile service – Rait Antiques Centre, Rait PH2 7RT
Friday: 11:30am – 12:30pm
Rhynd Mobile service – Along Main Road, Rhynd, Perth PH2 8QG
Friday: 1:30pm – 2:30pm