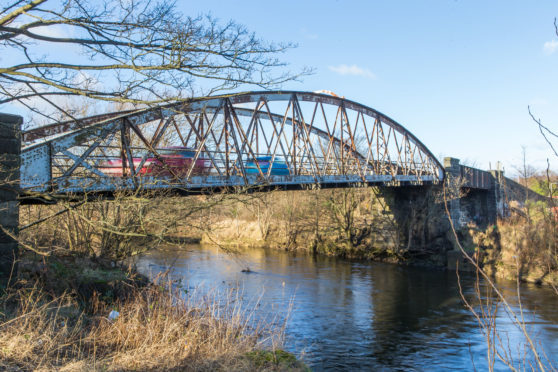 A new report has highlighted concerns that current resources are insufficient to tackle the backlog of bridge repairs needed throughout Fife.
The region's economy, tourism, strategic planning and transportation committee has approved a rolling programme of bridge works for the coming year, with just over £8.6 million allocated to essential work for the period 2017 to 2025.
However, new figures suggest at least £18 million is required to shore up or replace the 46 Fife-owned and eight Network Rail bridges which are said to be in need of action.
A pair of bridges in Leven currently subject to a three-tonne weight restriction, namely the Leven Sawmill River Bridge and the Leven Sawmill Railway Bridge, known locally as the Iron Brig, have been earmarked for closure as strengthening or replacement is considered "uneconomic".
Ken Gourlay, head of assets, transportation and environment, said weight restrictions and other temporary measures on bridges have been a result of a "historic and persistent backlog of bridge strengthening and maintenance work" beyond the scope of the money available.
"The backlog requires to be strategically managed and continued investment in Fife's bridge stock is necessary to counter long-term deterioration, to keep our bridges safe for use, fit for purpose and to minimise restrictions on Fife's road network," he added.
Fife Council currently maintains 443 bridges and 281 retaining walls with a total replacement value of around £387 million.
Significant schemes included within the newly-approved rolling programme include a £3.4 million replacement of the B981 Broad Street Railway Bridge in Cowdenbeath to address long-term deterioration over the Fife Circle line, a £1.1 million replacement of a propped culvert at the A907 Lyne Burn in Dunfermline and a £1 million project to extend the life of the bridge at the A91 in Guardbridge.
A £2 million replacement has also been lined up for the A955 Leven Railway Bridge which would remove the current 18 tonne weight restriction on the busy link between Leven and Methil.
Liberal Democrat councillor Jane Ann Liston welcomed an assurance from council officers that necessary repairs to the Leven Railway Bridge would not be incompatible with potentially reopening the Levenmouth rail link.
"I was very happy to be assured that, although the cheapest solution for repairing the bridge would be to fill it in, this would not happen and instead repairs would be compatible with the line's re-opening," she said.
"I am even more pleased that Fife Council is avoiding the short-term approach such as Transport Scotland took when rebuilding the Border line, and decided to build bridges which could only span a single-track line.
"Fife Council has shown more foresight, which I take as a good omen for future developments."