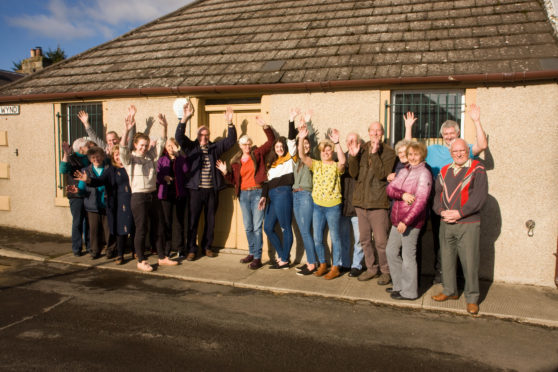 A village shop is to become the first in Fife operate under a community shares model after locals secured funding to take it over.
Residents in Dunshalt are celebrating the news they have won £97,500 from the Scottish Land Fund (SLF) to buy their local shop and return it to the heart of the community.
The north east Fife village is one of eight projects across Scotland to share in the latest £1.2 million funding round to be announced today, with the cash making the Dunshalt shop the first community share-owned shop in Scotland to be funded by the SLF.
The money will be used to buy the empty shop building, then renovate and reconfigure it, after the shop and Post Office closed in May 2016.
Eleanor Porter, chair of the Dunshalt Community Shop Steering Group, said the loss of the shop had left many elderly people isolated, as it was also a social hub where villagers could find out news and meet each other.
"This is absolutely fantastic news for us in Dunshalt," she said.
"Winning the Scottish Land Fund's support means we can buy the building and move ahead with the community share issue.
"This will be a community-owned shop in the truest sense.
"Everyone – both living in the village and those who just care about sustaining rural life – will have a chance to buy shares knowing that every penny the shop makes will go back into supporting the village community.
"Our job now is to begin the share issue which will raise the money needed to complete the extensive renovations that we know need doing and to employ a shop manager."
Local elected members Stephen Gethins MP and Willie Rennie MSP have also given their backing to the innovative community share-owned shop and are delighted with the SLF's announcement.
Mr Gethins said: "I know everyone involved is working really hard to turn this vision into a reality and I'm delighted that Dunshalt has been successful in securing this key award  from the Scottish Land Fund.
"Rural communities across the area have suffered from the loss of banks, post offices and libraries so this is very welcome news and I am delighted that my colleagues in the Scottish Government have recognised the enormous benefits of providing funding for this project."
Mr Rennie said: "This is an impressive effort from some very dedicated local people with the local community rallying in behind them.
"It's a great step towards the aim of retaining a shop at the heart of the village.
"There's still a lot of work to be done to make this a success but I am sure everyone will redouble their efforts to deliver the full benefits of a great community-owned facility."