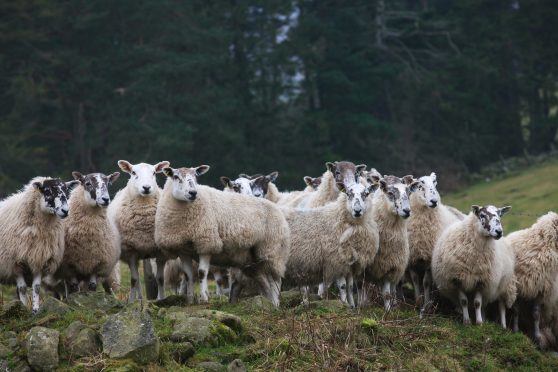 A Fife farmer lost his prize pregnant ewe in a horrific dog attack.
James Mckerrow hit out as police revealed an alarming rise in the number of sheep worrying cases across the region this year.
Mr Mckerrow's flock was targeted as they were grazing a field in the Kennoway area, about 20 minutes away from his home at Nochnary Farm, Freuchie.
"The ewe was attacked either in the late hours of Saturday February 24 or the early hours of  February 25," he said.
"Out of 112 ewes in the field she was the only ewe attacked which makes me think the dog owner was there and got it out before it attacked any more.
"When found she was still alive and grouped together with the rest of the ewes."
Sadly, the severity of the animal's wounds meant the farmer's vet had no option but to put her to sleep.
Mr Mckerrow said: "She was one of our pedigree Texel ewes and was carrying twins to our 30,000 guinea joint-owned stock tup Knock Yankee.
"She was from a good breeding family."
When the other ewes were checked the next day they were still distressed.
Mr Mckerrow said three or four were suffering from twin lamb disease, which could be caused by stress.
"The public need to be made aware of the damage that could be caused," he added.
Police in Fife said there had been a number of sheep worrying incidents since the start of 2018.
Three sheep were attacked and killed at a field near Leslie between January 27 and 28, only days after the incident with Mr Mckerrow's livestock.
Officers in Cardenden then received a report of five sheep having been seriously wounded at a local farm between March 6 and 7.
Two animals were killed instantly and three more had to be put down as a result of the injuries they sustained.
Dog owners are advised to keep pets on a lead when they are around other animals and to always be aware of livestock.
Dogs should only be walked by someone who is able to control them.
The law gives farmers the right to shoot a dog if it is attacking their livestock.
Crime Prevention Officer Fraser Laird said: "Throughout the Fife area we have seen a number of incidents already this year of dogs being dangerously out of control.
"We are appealing to dog owners to ensure proper control of their dogs.
"It is also worth remembering that, while you know your dog and understand their behaviour, other people may be nervous and might see what you consider playful behaviour to be frightening or intimidating."