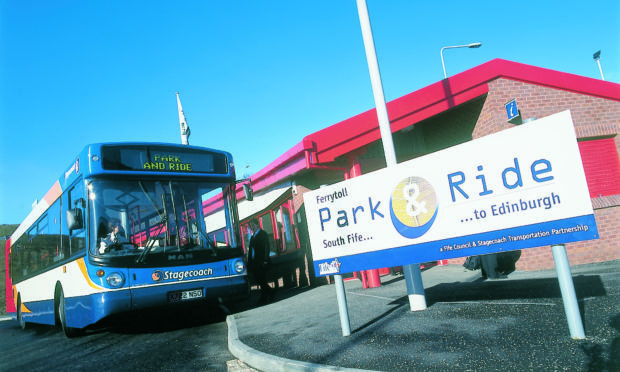 Conservative councillor Dave Dempsey believes the move to impose parking charges at two Fife park and rides is a "thoroughly bad idea".
Members of south and west Fife area committee agreed to the promotion of a traffic regulation order at Ferrytoll park and ride which would see the £1 daily charge.
The same charge is in the pipeline for the Halbeath park and ride site after it was backed at the Cowdenbeath Area Committee meeting.
With the installation of ticket machines and signs, the cost will be around £85,000 at Ferrytoll and £60,000 at Halbeath.
Following the initial outlay, it is anticipated the move will recoup in the region of £190,000 a year at Ferrytoll, which costs £210,000 a year to run.
Funds in the region of £130,00 would be raised at Halbeath, which costs £170,000 a year to operate.
But Mr Dempsey felt the scheme would have a negative impact, and had the potential to displace some cars to other areas.
"Somebody who, five days a week commutes is looking at £250 a year," he said.
"Somebody is going to react to that, they could drive and park somewhere close to a bus stop, say here in Inverkeithing town centre, and save the £1 a day.
"I think this is a thoroughly bad idea and I do not think I can let this go past without registering that."
Other councillors were concerned motorists would face a surcharge if paying by RingGo mobile phone payment system.
However, they were assured the 20p surcharge for this service would be imposed per transaction not per day.
Mr Dempsey's party colleague Councillor Darren Watt was attacked by Labour councillors when he spoke out against the £1 fee at Halbeath park and ride at the  Cowdenbeath Area Committee.
Mr Watt said although"not a great big ask" the £1 charge could increase in future, and open the door to fees being introduced elsewhere such as railway stations.
"I realise my voice will probably be very lonely in this committee, but I feel this is an opportunistic smash and grab at commuters," he said.
"I just feel that this could simply be the start."
Labour councillors said the need for the £1 charge was down to the Conservative Government's programme of austerity, which had slashed public spending.
Councillor Gary Guichan said: "Given the austerity forced on local services we feel we have to do this."
Committee convener Councillor Linda Erskine said such rises were necessary to ease pressure on services such as social work and education.
She added: "Yes, it isn't a big ask and hopefully it won't rise very much over time, but unless we get significantly bigger funding from central government…we will have to make difficult choices and this is just one of them unfortunately."