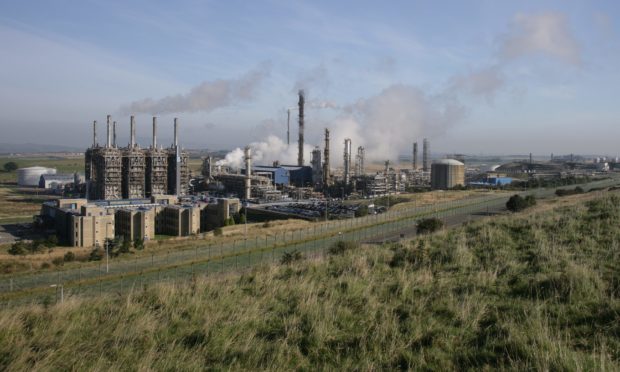 Mossmorran began flaring again following a leak at the chemical plant near Cowdenbeath on Saturday.
Emergency services rushed to Fife Ethylene Plant shortly after 5.30pm when the alarm was raised.
The incident occurred just a month after ExxonMobil Chemical and Shell UK, operator of Fife NGL Plant, were issued with a final warning by environment watchdog SEPA, as a result of prolonged flaring in June last year.
The Scottish Fire and Rescue Service sent seven appliances to the scene.
A spokesperson said the incident was dealt with mainly by ExxonMobil Chemical but firefighters remained for more than three hours as a precaution and to advise on ventilation.
What appeared to be flames could be seen a short distance from the base of the flaring stack.
ExxonMobil Chemical issued an apology to residents of surrounding towns and villages.
A statement released at 5pm on Saturday said: "ExxonMobil Chemical Limited would like to apologise to the local communities for any disturbance caused as a result of the flaring which will occur today at the Fife Ethylene Plant, Mossmorran.
"The flaring is required as we work to repair a mechanical issue with a pump onsite.
"We are working to resume normal operations as soon as possible and we will provide further updates in due course.
"The flare is an essential part of the plant's safety systems and there is no danger to local communities or employees.
"We would like to assure you safety and environmental protection are our highest priorities and that we will work to minimise flaring as much as possible."
Following an investigation into last June's incident SEPA found that elevated levels of unplanned flaring, a safety mechanism for process faults, between June 12 and 18 breached environmental controls.