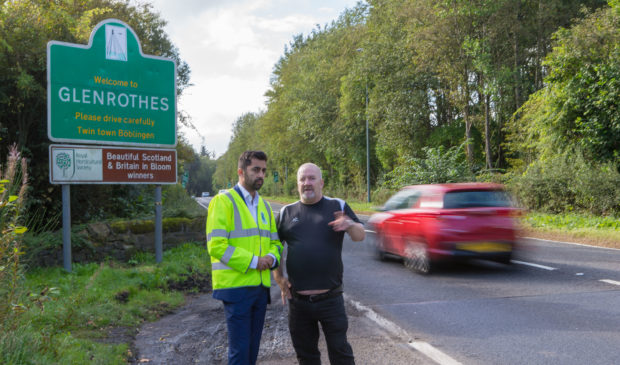 The heartbroken family of a nine-year-old boy killed as he crossed the A92 in Fife have won a three-year campaign for safety improvements.
Tragic Logan Carrie's grandfather said a heavy weight had been lifted off his heart as the Scottish Government announced plans for a pedestrian crossing near the site of his grandson's death.
Rab Brown said: "We're elated. It's just unfortunate Logan had to die to make this happen.
"It's been three years and it's been a long three years but we've got there."
An A92 safety campaign group has also hailed the news.
The signal-controlled crossing at Balbirnie Mains in Glenrothes, should be in place by the end of the financial year.
Further options to improve safety at the nearby Cadham and Bafarg junctions – the sites of numerous accidents over several years – will be assessed over the summer.
Transport Minister Humza Yousaf said the decision to install the crossing followed an extensive investigation prompted by Logan's death in February 2015.
"I previously visited this site and met with Logan's family," he said.
"I promised them that my officials would develop a practical solution to improve pedestrian access at this point on the A92 to help prevent a repeat of these tragic circumstances.
"The proposed crossing is the result of that work."
He added: "We will also continue to engage with Fife Council and other stakeholders to ensure the crossing is linked to the surrounding path network."
Local MSP Jenny Gilruth said she was delighted that decisive action was being taken.
"This pedestrian crossing is part of the solution to the long-running concerns with safety on that road," she said.
"In March this year I hosted a site visit alongside North Glenrothes Community Council and the Transport Minister.
"It was clear the Scottish Government  was listening and I am heartened by today's news."
Dr Bob Grant, chairman of Glenrothes Area Futures Group which has long campaigned for safety improvements on the A92, described the announcement as "brilliant news".
"I'm particularly delighted to Logan Carrie's family that this is finally going to happen and I'm delighted that at long last the Scottish Government is listening," he said.
He said the group would "participate with enthusiasm" in any engagement with Transport Scotland over options for Cadham and Balfarg junctions.
Logan died as he tried to cross the A92 at a spot between the two junctions during rush hour on February 9 2015.
He ran through a gap in a hedge into the path of an oncoming car.