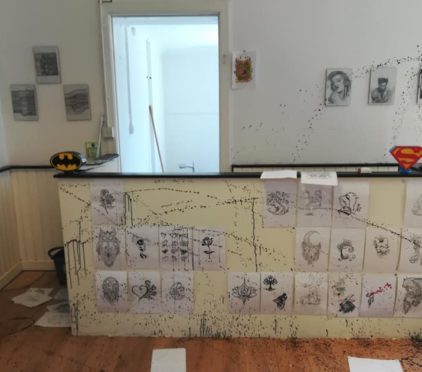 The owners of an art studio in Dunfermline have been left devastated after vandals stole more than £6000 worth of equipment.
Studio 51/50 was targeted in a nighttime raid on Wednesday which saw ink thrown across the walls with irreplaceable artwork destroyed.
The thieves also made off with a laptop, a vintage Fender Stratocaster guitar and specialist tattooing equipment and needles.
Studio co-owner Marc McCann has issued a warning to the thieves not to use the tattoo guns which he said could cause lasting damage.
The 41-year-old said: "Our main concern is that someone has got these tattoo machines and if they decide to use them on themselves or other people, they can cause quite a lot of damage.
"They're tuned a very specific way and if you don't use them right they can scar the skin very badly.
"There's a whole hygiene issue there as well. Some of the diseases they could pass between each other is crazy so safety first and hand them back."
Marc, who runs the art studio with partner Laura Boyle, discovered the destruction on Thursday morning after arriving at the Bruce Street business.
He said: "I immediately noticed our door sensor had been knocked off the wall.
"I walked up the stairs and saw the big security door at the back that only opens from the inside was standing open. So I knew someone had been in there.
"I went into the the main gallery room and there was just mess everywhere, with ink up all the walls. They've used what they found inside to destroy the walls.
"Then I went into the tattoo room and that had been completely destroyed as well.
"All the equipment was taken. They also took our laptop and my vintage Fender Stratocaster. "All in all, we're out about £5000 or £6000 but we can't work with the studio like this and we've got to fix it all first.
"All my artwork for the last 15 or 20 years which has also been destroyed which is the hardest thing.
"Our studio is built on family. They were all in helping paint it and everyone's had a part of this place. It's just completely gone.
"We've put everything into the studio, our savings, everything, and someone has just come along and destroyed it all. We're down but we're not out. We will rebuild."