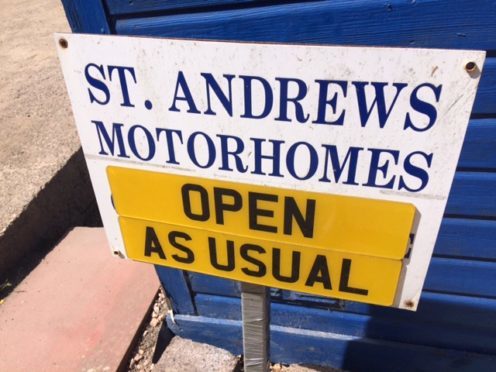 An estimated 60 motorhome owners are owed around £800,000 by a Fife trader which went bust and is being probed by police.
St Andrews Motorhomes was put into liquidation on Wednesday after around 25 years in business.
The sudden closure left those who handed over vehicles to director Christine Galloway fearing they could be left tens of thousands of pounds out of pocket.
However, liquidator Claire Middlebrook, of Middlesbrooks Business Recovery Advice, has offered assurance that she will try to recover substantial sums for everyone involved.
Ms Middlebrook said: "I'm acutely aware of the anger felt by every owner at the actions of Christine Galloway's company.
"I strongly advise creditors that they should hold off any legal action and allow me as liquidator to recover as much as possible of the value of their motor homes.
"I will very quickly assess the company's remaining assets, which include land and other sources of funds, and it is then my legal responsibility to refund everyone to the highest possible value of their vehicle."
Clients had handed over motorhomes in brokerage deals, allowing the firm based near Cupar to sell them on their behalf.
Some said they were told their vehicles, worth upwards of £20,000, had been sold but they were yet to be paid.
Police said on Wednesday they were investigating a complaint of financial irregularity.
Ms Middlebrook has a list of owners involved and said they will also be given a chance to take part in the insolvency process.
She issued a reminder that it was early days in the insolvency and added: "There are still assets in the company which we will repay to every creditor."
Over 20 motorhomes awaiting sale remain at the salesroom yard, on the B940 to Pitscottie, and Ms Middlebrook said their owners will soon be able to collect them.