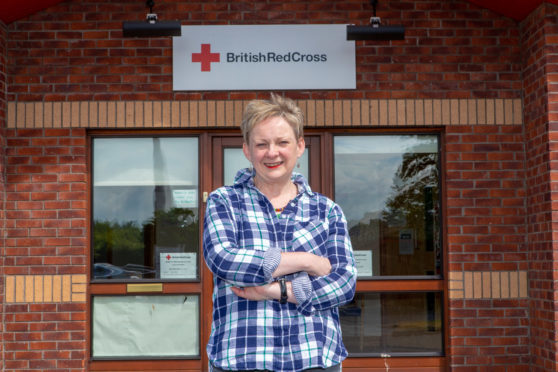 Horrors of the Grenfell Tower disaster have been recalled by a Fife woman who went to the aid of survivors.
Elaine Meakin, 57, was among the army of volunteers who helped former residents of the tower who lost loved-ones, their homes and possessions when the high-rise was engulfed by flames a year ago.
She helped the British Red Cross set up in Westway Sports Centre in the aftermath of the tragedy, which claimed the lives of 72 people.
It was three weeks after the catastrophic blaze that Elaine, who lives in Dalgety Bay with husband Jeremy, arrived in the capital but still the smell of smoke hung in the air.
As soon as she got off the train she was confronted by the grim sight of the still smouldering building.
She told The Courier: "It was really horrendous. I'd seen it on the television, but to see it for real, I just couldn't believe that something like that could have happened. Everywhere you went, it loomed over you."
At every turn, she said, were posters for missing people who clearly would never be found alive.
She said: "There were messages and there were things that belonged to missing people, I saw someone's shoes and messages about them.
"There was a poster of a little girl who had gone missing and her nursery friends had written on it 'please come back, we miss you'.
"You knew they weren't going to find these people and you realised that this has affected everyone in that place, old people, young people, children.
"There were messages of hope and there were angry messages. It was heart-breaking."
At the centre, Elaine helped those looking for advice, food, essentials, financial or housing assistance or who just wanted a shoulder to cry on or a vent for their anger.
She said: "There was one young woman who came in who was very angry. She wanted to get things off her chest and suddenly she stopped and said 'you're Scottish aren't you?' and a big smile came over her face and she said 'I love your accent!'
"It was the smallest thing but it made such a difference to her, just to be listened to."
There was also a man who had gone back into the burning tower six times to save others yet was reluctant to accept help for himself.
Families brought young children who had lost their homes to play at the rest centre and despite being surrounded by tales of tragedy, Elaine said the centre was full of hope and human kindness.
She said: "You realised how much good there was in people, so many people were there to offer help and the community was so strong; it pulled together and that's what really struck me."
Elaine, who has worked in the voluntary sector for more than 13 years, had joined the British Red Cross only weeks before the fire and stepped up when the charity issued an appeal for help.
She said: "It was really outside my comfort zone, I hadn't even travelled to London by myself before, but I felt I needed to do something, whatever it was.
"I feel incredibly proud of being with the Red Cross, being there and having that opportunity to help.
"It was a life changing experience and it's something I will never forget."
Thoughts of Grenfell Tower, its victims and survivors are always with Elaine, but Thursday in particular will be a day of reflection for her.
She said: "Hearing people talking about it now makes me feel very, very emotional.
"I'm so glad it's not being forgotten and that it is still very much in the news."