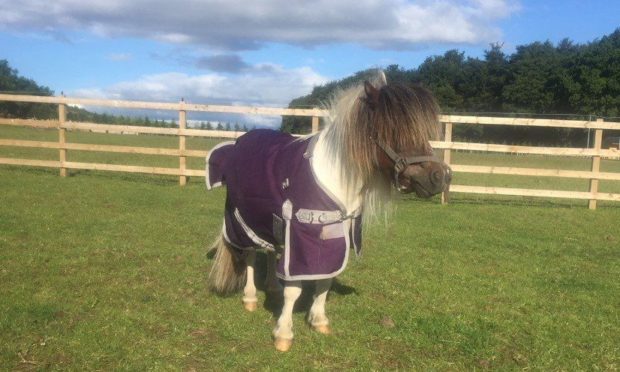 A Fife pony owner driven demented by the "irritating" animal has become an online sensation after she tried to sell him on Gumtree.
The poster, known only as Julie from Newport-on-Tay, shared the brutally honest blurb about 12-year-old Clyde, pointing out his numerous flaws.
The tongue-in-cheek advert told how the "obnoxious" pony refuses to be caught in his field and "squeals like a pig" instead of neighing like his taller counterparts.
She told how the "little git" was so short in stature that he would be useless to even a four-year-old rider.
Julie later updated prospective buyers that her daughter had uncovered her plot to get rid of the not-so-loveable rogue and withdrew him from sale.
The advert read: "Looks cute in the picture eh? I bet you are wondering why I didn't post a picture without the rug on? Well I couldn't catch the little git so had to go with what I had.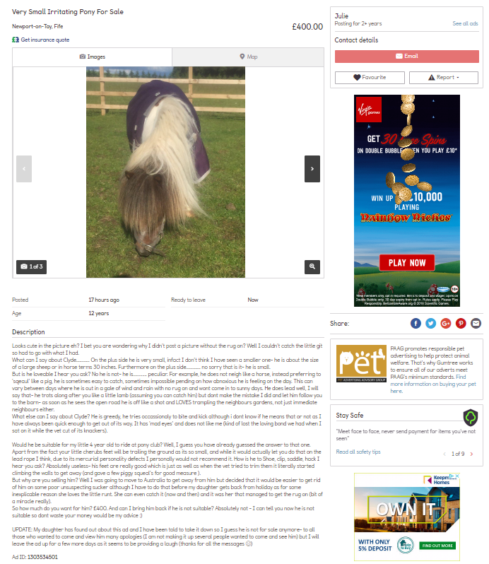 "What can I say about Clyde… On the plus side he is very small, in fact I don't think I have seen a smaller one. He is about the size of a large sheep or in horse terms 30 inches.
"Furthermore on the plus side…no sorry that is it – he is small.  But is he loveable I hear you ask? No he is not- he is peculiar.
"For example, he does not neigh like a horse, instead preferring to 'squeal' like a pig, he is sometimes easy to catch, sometimes impossible pending on how obnoxious he is feeling on the day.
"This can vary between days where he is out in a gale of wind and rain with no rug on and won't come in to sunny days."
She also warned that whilst the little pony would trot along after you "like a little lamb", he would made a dash for freedom given the chance and loved trampling neighbours gardens.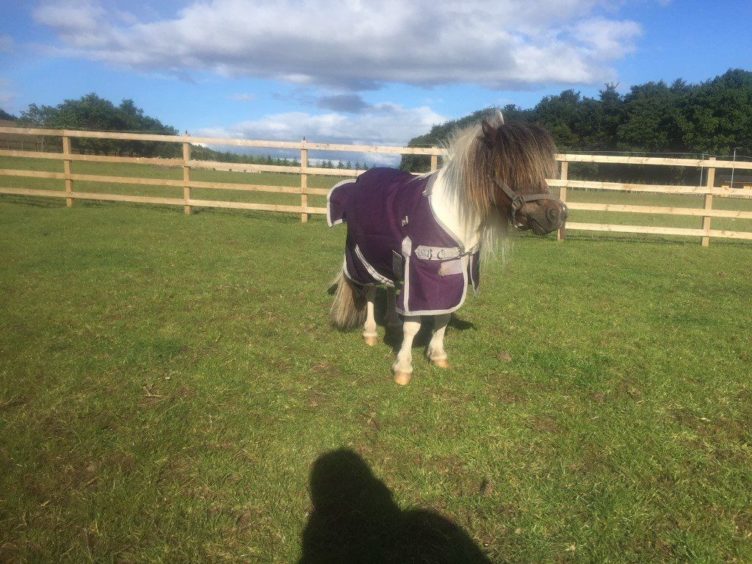 She also joked Clyde was "greedy" and would occasionally try to bit and kick.
Julie added: "It has 'mad eyes' and does not like me (kind of lost the loving bond we had when I sat on it while the vet cut off its knackers). But why are you selling him?
"Well I was going to move to Australia to get away from him but decided that it would be easier to get rid of him on some poor unsuspecting sucker although I have to do that before my daughter gets back from holiday as for some inexplicable reason she loves the little runt.
"She can even catch it (now and then) and it was her that managed to get the rug on (bit of a miracle really).
"So how much do you want for him? £400. And can I bring him back if he is not suitable? "Absolutely not – I can tell you now he is not suitable so don't waste your money would be my advice."
She later updated the post revealing her plans had been scuppered but thanked everyone for their messages about rehoming the pony.