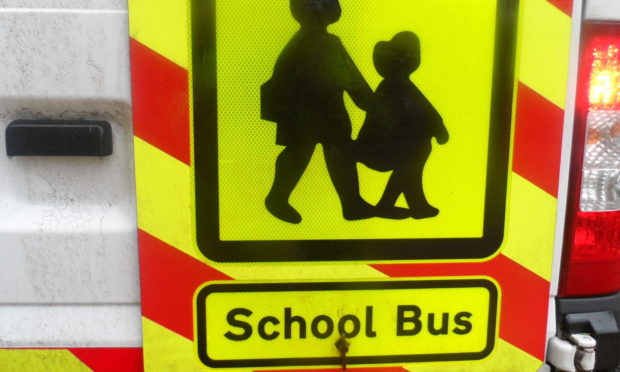 Parents are fighting for school bus service changes after a sleeping Angus six-year-old was taken to a depot 55 minutes away from his stop when the driver failed to spot him.
The boy was on the top deck of a public service double decker running between Brechin and Forfar when he nodded off and the coach passed his house without stopping.
A worried childminder, who had expected the bus to stop, phoned the youngster's mother and she made a frantic dash to the Forfar bus depot to collect her son.
The Care Inspectorate carried out a probe into the incident and has recognised the investigation undertaken by Angus Council but despite assurances from the authority, the family involved say they are still unhappy that primary pupils are having to travel unaccompanied on the public service.
The boy, whose family do not wish to be named, is a pupil at Brechin's Maisondieu primary and was on his way home when he fell asleep on the upper floor of the 21B service which some local pupils have to use to get to school.
The boy's mother said: "He fell asleep, slid down the seat and the driver didn't see him so he didn't stop at the house and took him right into Forfar.
"He was okay and thought he had done something wrong, but this is just part of the issue we have with a public bus being used for young children.
"Anyone could be on the bus with these children – how do we know that a sex offender might not be sitting a couple of seats away, among primary children?"
She added: "If the bus fails to stop, the child could try and get off at first available stop, which in my son's case would be Finavon – a stop which is on the dual carriageway that he might then try to cross on his own if he was in a panic."
"The safety measures that are supposedly in place are not effective and absolutely nothing has changed," the mother added.
"They have now got to sit downstairs on the bus and after being told that CCTV would be put in place we have now been told that it will be occasionally used to monitor behaviour.
"They have backtracked on that, and we don't believe any risk assessment for sex offenders has been carried out.
"I do not believe that this method of transport is suitable for primary aged children and also believe I have the support of other parents whose children use this service or are to use it in the near future.
"I strongly believe that a designated school minibus with a regular driver would be much more appropriate."
An Angus Council spokesman said: "The matter was immediately reported to the Care Inspectorate.
"They have acknowledged our full investigation process, as well as the transparency and communication we have provided to the family concerned.
"Measures have been introduced to prevent a similar incident happening in the future.
"We continue to engage with the family and would encourage them to raise any issues or concerns they have directly with ourselves, or the contact we have provided to them at the Care Inspectorate."