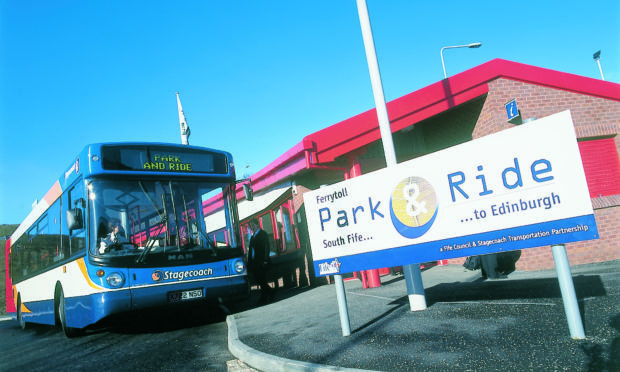 Councillors have been urged to approve a £1 parking charge scheme at two Fife park and ride facilities, despite concerns from residents.
Members at the South and West Area Committee and the Cowdenbeath Area Committee will vote on the controversial plans on Wednesday.
The scheme would see commuters being made to pay at the Halbeath and Ferrytoll Park and Ride sites, which are currently free to use.
A total of 285 objections to the move have been made but the officer's recommendation is to set aside the worries and approve the parking charge.
Conservative councillor for Cowdenbeath Darren Watt, said: "I would urge other local councillors to think long and hard about the message it would send to voters throughout Fife should they completely disregard 285 individual concerns about implementing a charge at the park and ride facilities.
"I appreciate the books need to be balanced, however, it is completely unfair to impose yet another charge on hard-working commuters at a time when we're seeing record fuel prices and higher insurance premiums.
"These charges would not even cover the services charges by a long way and if they are accepted, then I fear it would just be the beginning.
"Not only would we see further price increases, we could also see charges brought in at railway stations throughout the Kingdom, as well as smaller towns like Cowdenbeath and Lochgelly."
Fellow Conservative for Inverkeithing and Dalgety Bay, Dave Dempsey, said he believed the number of people objecting would be far higher if people believed their voice mattered in the consultation.
He said: "What it comes down to in my opinion is, does consulting the public count for anything?
"It's an interesting conjecture as to how many objections there would have been if people who decided not to bother because they felt the move was going to happen anyway had, in fact, objected.
"These 285 people have put the time and effort in despite the feeling that you're beating your head against a brick wall.
"As far as I'm concerned, it's up to the local councillors to prove those people wrong and to actually go for rejecting this."
Ferrytoll costs £210,000 a year to run but it is hoped the scheme will help recoup £190,000 of that after an initial £85,000 outlay for equipment.
Halbeath, which costs £170,000 a year to operate, is expected to make back around £130,000 towards its running fees after spending £60,000 on machines and signs.
The plans have attracted objections from across Fife and from towns as far away as East Kilbride and Greenock.
Concerns included worries that drivers would start parking in surrounding streets in a bid to avoid paying the fees.
Questions were also asked as to whether the £1 charge would increase in the future and that the fee may have a negative impact on the environment with more people choosing to drive.