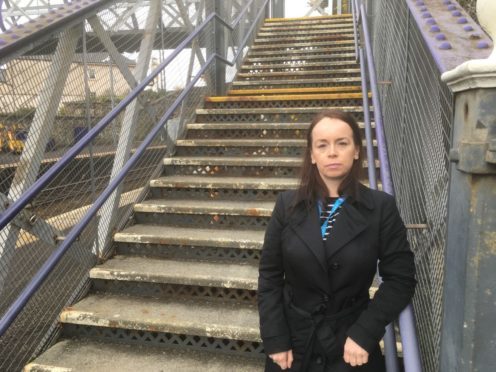 A steering group is to be created to press the case for new measures to make Burntisland's train station truly accessible to all.
Locals and visitors have long complained that the northbound platform in the Fife town is inaccessible to wheelchair users and is also difficult to access for pram users and those with decreased mobility.
Now though, hopes have been raised that rail chiefs will finally turn their attention to the problem amid suggestions funding will be made available over the coming years for infrastructure work at stations in need of a revamp.
The issue has been taken up by local councillor Kathleen Leslie, who wrote to Network Rail in April requesting a meeting to look at accessibility issues, and she is optimistic progress can be made.
"Whilst I felt the response from Network Rail was noncommittal, last year the UK Government announced additional funding for station accessibility improvements in the next Rail Control Period," she explained.
"This will begin next year and run until 2024.
"Here this will be via Transport Scotland and my understanding is that they have started work on their nomination list so I believe that this gives us a real opportunity to push for Burntisland to be considered."
While the southbound platform at Burntisland has had a ramp constructed, the only way to access the north side has been via steps.
Indeed, wheelchair users or those with mobility problems have been advised to remain on the train until Kirkcaldy where they can cross on to the other platform using a lift and the subway before taking another train back down the line to Burntisland.
That all adds time and hassle to journeys, and the Burntisland Community Development Trust has organised a meeting for Wednesday August 22 in the hope of setting up a new steering group to take the matter forward.
The new body will include various groups within the town and is also expected to attract support from other local councillors, MSPs and MPs.
Local MP Lesley Laird is also disappointed that Burntisland remains one of 104 inaccessible stations across Scotland.
She pointed out: "A disused tunnel under the tracks connects the platforms at Burntisland and it is structurally sound.
"Residents explored this option with ScotRail years ago, only to be told that there wasn't enough footfall at the station to justify the cost of installing a lift from the tunnel to northbound platform two.
"Arguably, however, footfall would increase at the station if accessibility was fixed and fare prices were actually fair."
"I give the steering group my full support and call on Michael Matheson to commit to an upgrade programme which will ensure everyone can board a train — in any direction — from Burntisland."
And Ms Leslie continued: "Combined with the feedback I have received so far from residents and affected rail users, I do believe there will be a valid case to progress so that a fully accessible rail facility exists in Burntisland."