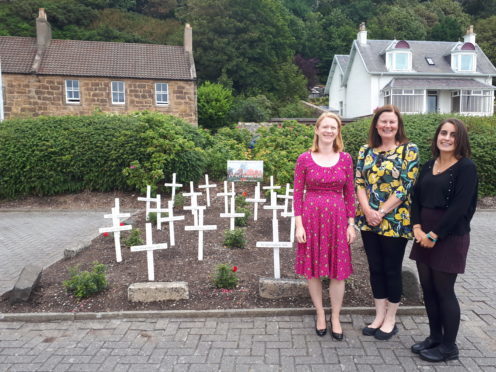 Two west Fife villagers are paying tribute to those who fell in the First World War.
Volunteers in Limekilns have planted a memorial garden commemorating the centenary of the Armistice marking the end of the War.
The garden, in the Pier Head car park, features roses and crosses bearing the names of villagers who gave their lives in the conflict.
The memorial was planted by Limekilns Garden Club and funded by the Limekilns Hotel and Bistro.
Local MSP Shirley-Anne Somerville met with the volunteers behind the memorial to thank them for their work on the project.
The Dunfermline SNP politician said: "The Limekilns Garden Club and its supporters have done an excellent job in creating this memorial and deserve our gratitude for their hard work and dedication.
"The centenary of the end of the First World War is an important opportunity for us to pay our respects to those who those who served.
"In reflecting on our past, we will remind ourselves why it is so important that we work to prevent a tragedy like this from occurring again."
Limekilns Hotel and Bistro owner Yasmin Bazazi said: "I'm delighted to have had the opportunity to support the Garden Club's work on the memorial garden.
"On the 100th anniversary of the Armistice, I'm pleased to see the memorial in the heart of our village, where we can share it with locals and visitors alike."
Garden Club member Fiona Thompson added: "We have had a really positive response to the memorial garden so far from both villagers and visitors.
"One lady who was visiting even knitted a poppy which she left as a mark of remembrance.
"I hope that that the garden will represent a place of reflection for people in Limekilns and Charlestown in the run up to Armistice day."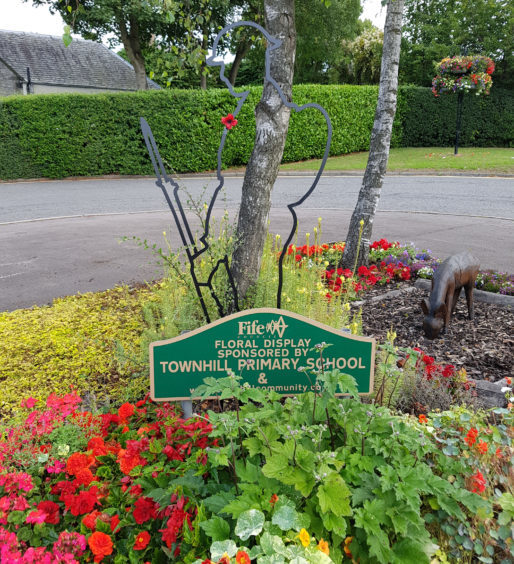 Meanwhile in Townhill a There but Not There statue has been installed as a centrepiece of a floral display in the village.
The community council bought the 6ft high ghostly Tommy as part of the national There but Not There campaign run by the charity Remembered, which aims to education every generation about why so many made the ultimate sacrifice and raise funds to help those suffering from the hidden wounds of war.