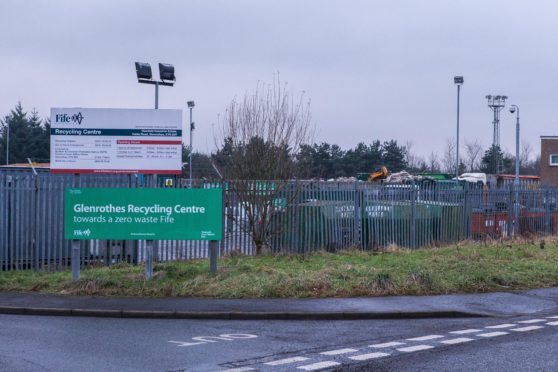 Fife councillors have agreed a move towards full cost recovery for commercial waste amid concerns traders are disposing of waste without paying.
While the introduction of a new charging system and cashless payments were welcomed by most on the environment, protective services and community safety committee , critics expressed concern over plans to ban pedestrians from taking items into recycling centres, as well as proposals to ban double axle trailers driven by domestic customers.
Committee chairman Councillor Ross Vettraino, said a "common sense" approach will be taken in relation to access, but Liberal Democrat councillor Margaret Kennedy described the proposed regime as "using a sledgehammer to crack a nut".
"As it is just a few weeks since the hours were cut (at recycling centres), we have yet to get a full picture of the effect upon recycling and whether landfilling or fly-tipping have increased as a result," she added.
"Therefore it is premature to bring in yet another change before the results of the hours reduction are clear and, in particular, where there is a high chance of further impacting on residents."
Ms Kennedy said not only would some bona fide domestic customers be penalised when they bring waste on roof racks or in double-axle trailers, but where commercial customers from the East Neuk were encouraged to travel to Ladybank to take advantage of reduced charges rather than St Andrews, the cost of the longer journey would negate any benefits.
St Andrews councillor Jane Ann Liston called the proposal "environmentally incompetent".
She said: "If safety is the perceived problem, it's not beyond the wit of the service to designate separate pedestrian entrances; after all, once within the site, everybody is walking about, however they arrived.
Robin Baird, chief operating officer for Fife Resource Solutions, said traders are parking outside recycling centres and walking into sites to avoid payment.
Commercial organisations can dispose of material at nine of Fife's household waste recycling centres, but the existing recycling ticket scheme will be phased out before January 1.
Dalgety Bay, Glenrothes, Kirkcaldy, Lochgelly, Methil, Pittenweem and St Andrews recycling centres will soon operate a standard charge for accepting commercial waste, based on vehicle and/or trailer size and the volume and type of materials being disposed of.
Customers able to deliver waste directly to landfill sites at Dunfermline and Ladybank will get reduced rates due to the need for less haulage.
Some councillors had been open to stopping commercial waste coming into household recycling sites altogether, as councils have no legal requirement to accept it.
Mr Vettraino said: "We could take the easy option and say 'no commercial waste', but that's not what Fife Council is all about. We're trying hard to support local businesses as best as we can.
"Common sense will have to be applied and that will be second nature to many of our employees.
"We have to trust the staff to make the judgement at the time."
The council is currently spending around £2 million a year to handle commercial waste at its sites.