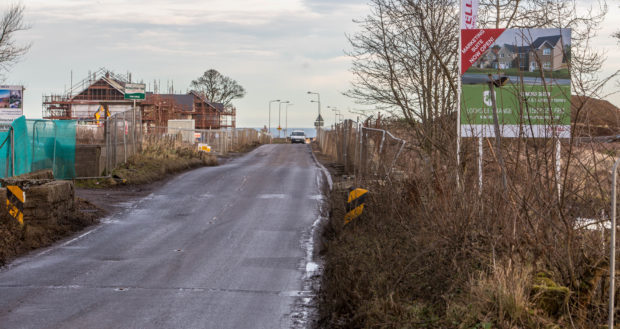 Fife Council planners have conceded they could have communicated better when work on a Kinghorn housing development led to a controversial four-month road closure.
Officers have said they "will take criticism on the chin" and work on improving how they keep residents, councillors and other council departments informed when problems are uncovered.
The way developers communicate with communities will also be looked at.
The undertaking was given as members of the local authority's economy, tourism, strategic planning and transportation committee scrutinised the reasons for the 16-week closure of the B923 past Kinghorn Loch earlier this year.
Head of economy, planning and employability Robin Presswood said developer Lovell Homes had not indicated the need for extended roadworks during the planning stages of the most significant development in Kinghorn for more than 40 years.
It was only after planning permission had been granted that the need for a new sewage system for the 133-home Lochside Grange development became apparent.
While an application for a six month closure to allow for the works was turned down, officers agreed to the road being shut for 15 weeks from January 15, extended to 16 weeks when the work overran.
The move caused considerable disruption for residents and local businesses and prompted hundreds of complaints and an online petition.
Mr Presswood said that given the sewer had to be installed, there had been no alternative to the requirement for a road closure.
"It became clear only after the planning application had been determined," he said.
"I accept local members and the community were disappointed with the communication. They were finding things out retrospectively rather than in advance."
Ken Gourlay, head of assets and facilities management, added: "Certainly communication seems to be an issue.
"We'll take that on the chin and work on it."
The pledge has been welcomed by Kinghorn Conservative councillor Kathleen Leslie, who said better communication would have prevented a huge amount of upset.
"I feel communication between developers, communities and the local authority has to be far more transparent," she said.
"What I am pleased about is that there has been scrutiny of this closure which has caused a lot of upset for local residents and small businesses who were adversely affected. "
Local Labour councillor Gordon Langlands added: "Road closure, or the possibility of it, should be brought to the planning committee and be transparent."