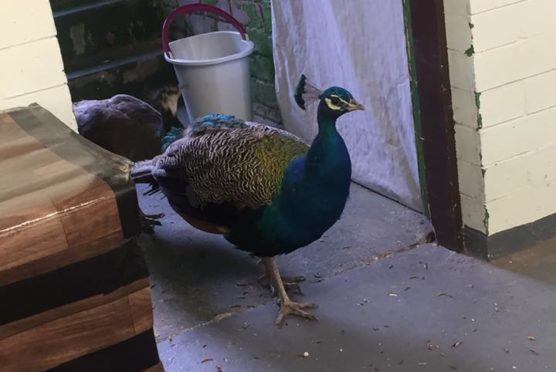 Careless dog owners are thought to be responsible for nearly cutting Dunfermline's peacock population by at least one in recent weeks.
Much-loved Malcolm, one of Pittencrieff Park's resident peacocks, was found to have suffered a leg injury after what locals believe was an altercation with a dog. It has prompted renewed calls for owners to keep their pets on a tight leash.
Thanks to the efforts of a small band of volunteers, the famous Glen is home to the familiar screech of peacocks once again after a fairly barren time following the death of the park's most famous peacock Clive, in 2017.
However, after a series of near misses reported in the last few weeks, it appears one canine did not take too kindly to Malcolm and attacked the popular bird.
John O'Neil, team parks manager for the city of Dunfermline area, urged people to have more consideration for the feathered residents, although he admitted staff were not 100% certain Malcolm's injury was caused by a dog.
"When we noticed Malcolm was limping, we called in the vet and he stated the bird had a strained ligament," he commented.
"We do know the bird has been chased by dogs recently, but can't be sure that was the cause.
"The park rules state all dogs are to be under proper control or on a short lead.
"There is additional signage posted by the volunteer group asking for dog owners to keep dogs on leads near the aviary building."
Peacocks have the Freedom of the City and were introduced by philanthropist Henry Beveridge in 1905 when he brought several back from India.
Those involved with the peacocks in Pittencrieff Park have been fundraising to install CCTV in and around the aviary area to keep the birds safe and secure, with items such as coasters, magnets and key rings on sale to help pay for their upkeep.
Peacock numbers were boosted earlier this year when the owners of Tullibole Castle, Rhoderick and Alison Moncrieff, donated a number of peafowl to the newly-refurbished peacock enclosure at Pittencrieff Park to join existing peacocks Malcolm and Louise.
The Moncrieffs have been pivotal in providing expertise on the care of the existing peacocks and swelling the ranks.
Anyone who would like to be involved in caring for the peacocks should email cdunfcc@hotmail.com.