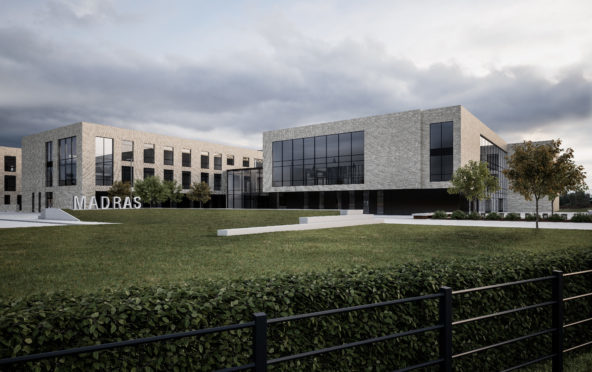 Concern has been voiced that a flagship and long-awaited new school is yet to be given planning permission, as work begins on construction of the access road.
Fife Council intends to have a new £50 million Madras College school ready by early summer 2021.
It is estimated erection of the 1,450-pupil school will take two years but the project is yet to be given the green light by a planning committee.
And a deadline for determining the St Andrews West expansion master plan – which must be approved before the school – has been extended until December.
Construction workers arrived at the North Haugh last Monday to start building part of the St Andrews West link road, which will allow access to the school site at Langlands.
St Andrews councillor Brian Thomson said: "While it's great to see progress on the ground, the fact that planning permission has not yet been granted for the school is obviously a bit of a concern.
"It's also concerning that the St Andrews West consortium has recently requested a three-month extension for consideration of the master plan until December."
The site of the school forms part of the St Andrews West strategic development zone, where more than 1,000 houses are planned, as well as university expansion, a business park, employment land and community facilities.
Planning permission for the school to be built at Pipeland, next to the town's hospital, was quashed following a legal challenge.
Mr Thomson said finalising the master plan was clearly a complex matter, with transportation links, landscaping, drainage and other infrastructure to be assessed, negotiated and determined.
He said: "I can appreciate the council officers' desire to mitigate the risk of any legal challenge, particularly given the track record of such action being taken in relation to planning decisions in St Andrews, and their caution in the handling of the planning applications is understandable.
"However, it's encouraging that officers are still of the view that the delivery of a new school is achievable within the 2020/21 academic year, which — given that it will take around two years to construct the school — would seem to suggest that the determination of the planning applications can't be too far away.
"Constructing a new school within that timescale would be excellent but, if it's not, I would certainly hope that a new school could be delivered by August 2021."
Pam Ewen, the council's senior manager in planning, said: "Both planning applications for the new secondary school and the larger development area across St Andrews West are still being considered by the planning authority.
"The St Andrews West application has an extension of three months until early December which was agreed at the request of the applicant.
"A date for the consideration of either of these applications has not been set and we continue to assess the applications."
Alan Paul, property services senior manager, said: "The council remains committed to delivering the new Madras as soon as possible and that we continue to target delivery during the academic year 2020/21."