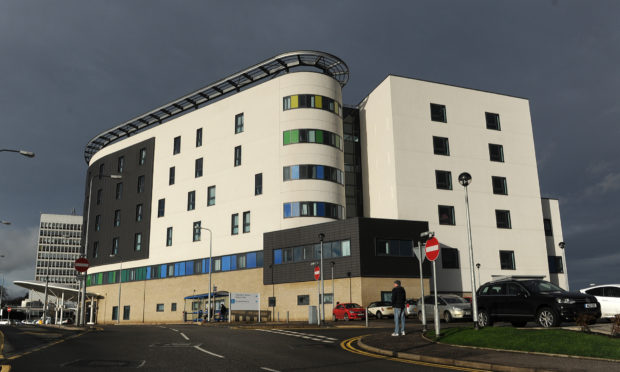 Relatives of a young mum who lost her unborn son in a horror crash in Fife have launched a fundraising appeal to pay for his funeral.
Teenage mother Shannon Myers has also paid tribute to her "handsome little man" after the baby died in the 30th week of her pregnancy.
Tragedy struck when Miss Myers, of Portobello near Edinburgh, was involved in a collision between a Seat Leon and a Transit van near Auchtertool on October 3.
The 18-year-old, who was a front seat passenger in the Seat, suffered serious injuries to her neck and abdomen and was taken to the Victoria Hospital in Kirkcaldy.
Medics performed an emergency caesarean section to deliver little Luke but the youngster died a short time later.
Miss Myers, who also has a nine-month-old son, posted a heartfelt tribute to her baby on social media alongside a picture of him holding a woman's hand.
She said: "My gorgeous little boy Luke Oliver Aubury you were sadly taken away from me and your family because of people and their stupidity driving trying to show off.
"I promise you now Luke you'll always be in our hearts and I'm gonna make you proud.
"You were too good for this horrible place but now may you be with our family of angels and our doggy Alecia, she will let you pull her face.
"Words can't describe how much I'm gonna miss you but one day I'll meet you again with your brother.
Tragedy as baby dies following serious crash near Auchtertool
"This isn't goodbye forever. You will get your justice and the best send off. I love you so much my handsome little boy.
"I'm so glad some family got to say their goodbyes to you my handsome little man you will always be loved by me and your daddy and family."
Other occupants of the Seat Leon – the 21-year-old driver, a 15-year-old girl and a 17-year-old boy – were also treated in hospital for their various injuries.
A 59-year-old man, 43-year-old woman and a 10-year-old girl, who were occupants of the Transit van, were also treated for minor injuries.
Police are still appealing for witnesses following the crash which took place on the B9157 near Meadowfield at around 10.20pm.
Sergeant Stephen Quinn from Fife's Road Policing Unit said: "Our deepest sympathies are with the young mother and her family at this time.
"We will continue to provide them with all the necessary support and assistance they may require.
"As part of this investigation we are keen to hear from other motorists who were on the B9157, near Meadowfield at around 10.20pm on Wednesday night, and may have witnessed what happened.
"Similarly, anyone with any other information they believe is relevant to this inquiry should also contact police immediately."
Anyone with information should call 101.
Caring relatives have set up a fundraising page to help cover the funeral costs for little Luke.
Anyone wishing to make a donation can visit: www.gofundme.com/fly-high-sweet-boy-baby-luke-x