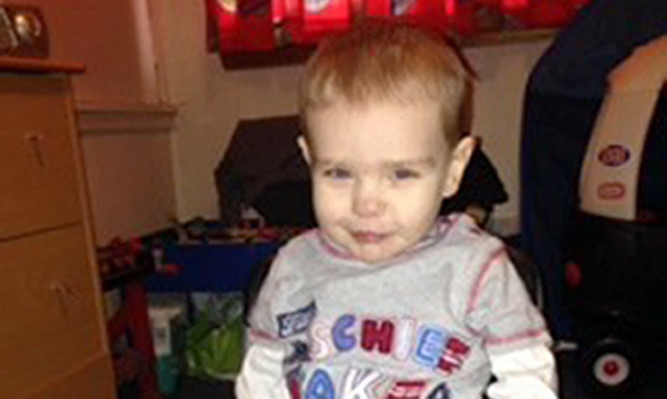 The trial of two woman accused of murdering Fife toddler Liam Fee heard how a boy had told police he "strangled" the two-year-old, but he was sitting up afterwards.
Liam's mum Rachel Trelfa, 28, and her civil partner Nyomi Fee, 32, are accused of murdering Liam and attempting to defeat the ends of justice by blaming the boy, who was then seven years of age.
The jury heard a recording of an interview with the youngster, who is now nine, during which a police officer and a social worker were present.
The interview was conducted last March, two days after Liam died at a house in Thornton, near Glenrothes.
Jurors at the High Court in Livingston watched video of the witness – who cannot be named for legal reasons – demonstrating how he put one hand over the tot's mouth.
He also told the murder trial that when he took his hand away Liam was "sitting up".
The boy said he had watched fight scenes in back-to-back 12-rated movies, including Batman Begins, Batman The Dark Knight and Pirates of the Caribbean before the alleged assault.
After being repeatedly reassured by the adults that he was not in any trouble, he later told them that on the night in question he had been "bad".
The social worker asked: "What did you do that was bad?"
"I strangled Liam," the boy replied.
During the interview at Roxburgh Road social work office in Glenrothes the youngster said he and another child had played with Liam in a bedroom after having dinner.
The boy said: "Fee came in and said it was time for Liam's nap, that it was bedtime.
"He was half awake but then he was closing his eyes when she was carrying him.
"When she put Liam in his bed. He'd fallen asleep."
Asked what happened next, he told the interviewers: "I get into the police car and come here."
"Who phoned the police?" the police officer asked.
"Nobody," he said, "the police came to the door to talk to me."
The boy denied that anyone in the house had been upset before he left, despite evidence of both accused wailing and shouting during a desperate 999 call seeking help.
The jury has been warned they will have to watch more than 20 hours of recorded interviews with the two boys.
Trelfa and Fee deny murder and attempting to defeat the ends of justice.
They further deny a catalogue of charges alleging they wilfully neglected Liam, the youngster they allegedly blame for the killing and another boy who cannot be named for legal reasons.
The jury has previously been told that Liam died from a severe blow to the abdomen which forced blood up into his heart causing it to rupture