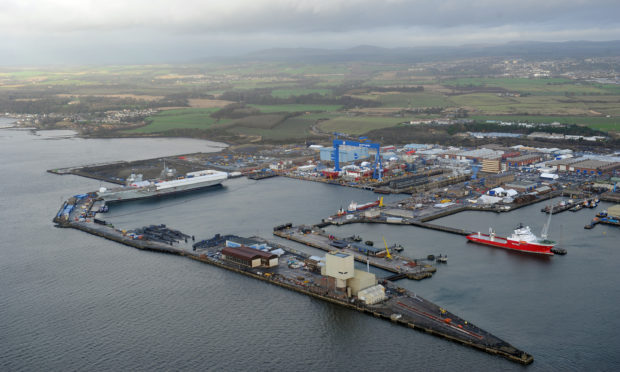 Rosyth Dockyard has helped shape the world.
The historic dockyard, lauded by Sir Winston Churchill, has been named as one of the top 200 civil engineering projects which has helped transform people's lives for the better.
It will now stand shoulder to shoulder with global engineering feats including New Orleans floodgates, Sydney Harbour's bridge and opera house, Paris's Pompidou Centre, the Mont Blanc cable car, Angel of the North and Shanghai Tower.
Nearer to home, both the Forth replacement crossing project – now known as the Queensferry Crossing – and its sister bridges are also in the top 200.
The list was created to mark the 200th anniversary of the Institution of Civil Engineers.
ICE is celebrating 200 inspirational and world-changing projects, past and present, from around the world throughout 2018.
Already around 160 projects have been announced with more expected before the end of the year.
Nominated by ICE's members and selected by an expert panel, the projects illustrate the breadth and depth of civil engineering's impact.
Rosyth dockyard was first built as a naval base for First World War battleships.
Now owned and operated by Babcock International, it opened in 1915 and played a large part in the success of Britain's war effort, providing access to the battle zone of the North Sea.
Following its redevelopment after the Second World War, it became an important part of the UK's nuclear deterrent, refitting and maintaining conventional and nuclear submarines.
Its most recent work saw it assemble the Royal Navy's largest warships, the flagship aircraft carriers, HMS Queen Elizabeth and HMS Prince of Wales.
ICE Scotland director Sara Thiam said she was delighted to see another Scottish project join the list of 200 projects from around the world.
"It yet again highlights Scotland's impressive track record for producing world class engineers and infrastructure over the last 200 years," she said.
She added that Rosyth demonstrated the long-term benefits civil engineering brought to society.
"It is a tribute to the enduring skills of civil engineers who created it and those responsible for its modification for continued use."
Civil engineer Michael Murray who worked there between 1987 and 2016, added: "Civil engineering has played a hugely important part in the Babcock Rosyth site over the last century.
"Engineering is in Babcock's DNA and technology is at the core of its engineering skills and capabilities, from which it seeks to drive and deliver innovation in every aspect of its work.
"It is great to see how the facility has adapted over the years due to changing demand, and how it continues to do so today."