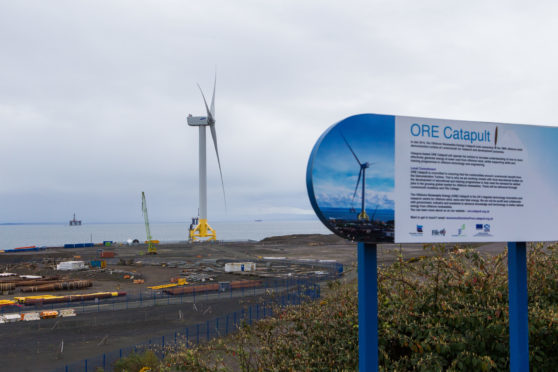 Fife is still counting the cost of last winter's storms after it emerged that one of the region's flagship developments suffered significant damage and requires urgent repairs.
Almost £800,000 will now have to be spent on shoring up coastal defences at Energy Park Fife after it was battered by high winds, rain and snow in February and March, The Courier can reveal.
Site owner Scottish Enterprise said the "crucial" work needs to be done sooner rather than later to protect assets at the Methil hub.
It is understood some sections of coastal protection were destroyed entirely, along with an adjoining access track.
A nearby site has also been hit by erosion damage and a retaining wall partially collapsed.
Scottish Enterprise is seeking contractors to take on a four-month contract to bring in stone armour boulders, reclaim as much as possible of the remaining defences, and come up with a more "robust" solution for the future.
A Scottish Enterprise spokesperson said: "We have issued a tender for work to replace sections of coastal protection that were destroyed or damaged by storms earlier this year, as well as repairing damaged portions of an access path and retaining wall.
"The tender also includes enhanced protection for a further section of coastline, to help prevent future damage.
"This work is crucial to maintaining the integrity of the site and ensure it remains an attractive inward investment location for companies in the energy sector."
Energy Park Fife is a joint venture between Scottish Enterprise and Fife Council. It was created to be a world leading engineering and research zone for the energy sector, capable of supporting the largest oil and gas renewables projects.
Bosses say its direct quayside access to the North Sea means it is ideally suited for a range of marine energy activities such as manufacturing, fabrication and engineering, research and development, and operations and maintenance.
BiFab remains the main player at the Methil site, although its well-documented difficulties and the withdrawal of Samsung in July has cast doubt over the Energy Park's future.
Scottish Enterprise said the £780,000 value it has placed on the coastal protection contract is likely to be an upper estimate, although it will depend on the tenders it has received.