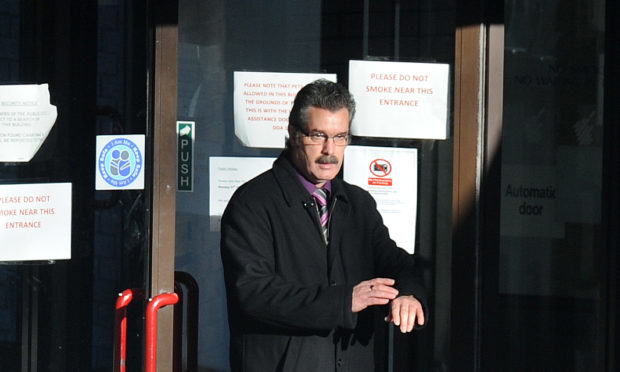 A bus driver who mowed down two schoolboys in a Fife car park has been found guilty of dangerous driving.
John Morrison told Dunfermline Sheriff Court of the moment he heard "screaming and shouting" after the accident happened outside the town's Abbeyview Community Centre and realised the enormity of what had happened.
A 13-year-old boy was left fighting for his life after being trapped under the wheels of the bus for more than half an hour. He suffered broken bones in his arm and leg, and needed skin grafts and pins inserted into his leg.
His 12-year-old friend escaped serious injury.
The court previously heard one witness compare the aftermath to "a horror film".
Morrison, 60, said he went into a state of shock while a group of children hurled abuse at him from outside the vehicle following the on February 28 last year.
"I couldn't stop shaking," he said.
Sheriff Charles Macnair dismissed suggestions made earlier in the trial that Morrison, of Marmion Drive, Glenrothes, had intentionally driven into the youngsters.
He also decided against finding Morrison guilty of the less serious charge of careless driving, telling him: "The point is that whereas some of the boys moved out of the way, these two did not.
"They were there to be seen but you carried on driving and collided with them.
"It can only be that you were not paying proper attention to the road in front because if you had been paying proper attention to the road in front you would have seen them."
Morrison had earlier told the court the accident unfolded seconds after a group of around 10 high school pupils walked in front of his Bay Travel outside the community centre in Dunfermline's Allan Crescent.
He said he thought the entire group had moved aside as he edged forward in the car park.
"To my knowledge it was all of them – I thought they were all clear of the coach," he said.
"When I got nearer them I heard the screaming and the shouting and I knew something was wrong almost immediately."
Morrison said he stopped the vehicle and opened the bus door, to be met by an "angry" lorry driver and a number of youngsters shouting abuse at him.
Morrison said he stayed inside the vehicle for two to three minutes as he was "afraid what the group might do".
He said the lorry driver had said to him: "I'll make sure you never drive a bus again, you went deliberately for those kids."
Morrison said he sat behind the driver's seat with his head in his hands before leaving the vehicle. Outside he encountered a large number of teenagers making threats towards him and a "horrendous" atmosphere.
Finding him guilty of dangerous driving and failing to maintain proper observations of the roadway around him, Sheriff Macnair imposed an immediate ban.
Morrison is due to be sentenced on November 13.