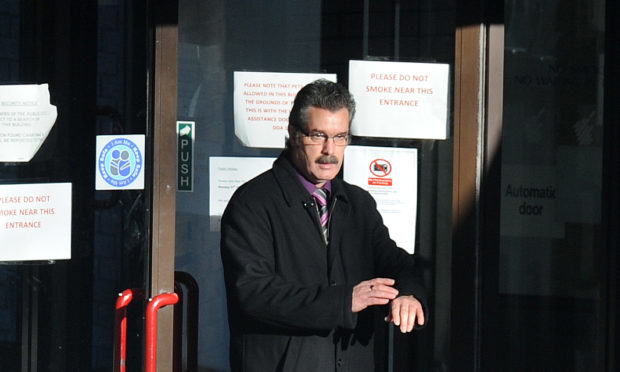 The family of a Fife teenager who was scarred for life after being run over by a bus say they hope the driver's conviction will give them a "fresh start".
Bus driver John Morrison, 60, was found guilty of dangerous driving earlier this week after two boys were struck by a Bay Travel coach outside Abbeyview Community Centre.
One of the boys, a 12-year-old, escaped serious injury, but his friend, who was 13-years-old at the time, was dragged under the wheels, leaving him with life-changing injuries.
Eighteen months on, the injured boy's grandmother, who has brought him up, said the whole family was pleased justice has been done.
"We're relieved and glad it's over so we can get on with our lives," she said.
"This has been terrible for all of us but we're looking to make a fresh start now and finally putting it behind us.
"People were saying things at the time about the boys and I'm happy that now it's been proven in court they weren't to blame for any of this and it was dangerous driving."
During a trial which spanned several months, Dunfermline Sheriff Court heard how the boys – who cannot be identified for legal reasons – had been among or near a group of around 10 school pupils in a car park in Allan Crescent, Dunfermline, on February 28 last year, when the bus being driven by Morrison moved towards them.
Morrison, who denied driving dangerously and failing to make proper observations, said he thought all of the group had moved clear of the vehicle as he edged forward, and stopped "almost immediately" when he heard shouting and screaming.
Morrison claimed the group had been walking around in front of his vehicle, while the court also heard suggestions the area surrounding the car park had been the site of many problems involving school children interfering with coaches.
However, the court also heard evidence the boys had been looking at their phones and were unaware of the bus until the "last second".
Sheriff Charles Macnair found Morrison guilty of dangerous driving after ruling the boys "were there to be seen".
The more seriously injured boy was trapped under the bus for more than half an hour as emergency services battled to save him.
He suffered broken bones in his leg and arm and needed five operations, including skin grafts and the insertion of pins into his leg. One witness described the scene immediately after the accident as like "something out of a horror movie".
Giving evidence during the trial, the boy's grandmother said her grandson was "lucky to be alive" and said there were hundreds of things he would no longer be able to do.
After this week's verdict, she said of her now 14-year-old grandson: "He'll never be the same as he was before but we'll make sure he has a great life."
Sheriff Charles Macnair said the injured youngster, who gave evidence in court behind a screen, had shown "remarkable fortitude" throughout and should be "proud" at how he has conducted himself since the accident.
"Many people who come before this court would have made much more of a meal of these injuries," he said of the boy.
Morrison, who was disqualified from driving after this week's verdict, will be sentenced next month.