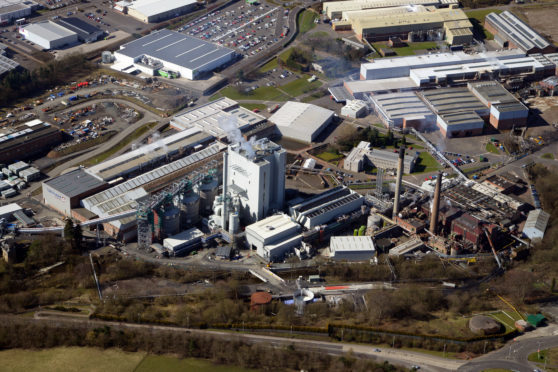 A Fife biomass plant has been shut down for at least a week after a valve failure led to noise pollution compared to the din of "jet engines taking off".
RWE's Markinch Biomass CHP (combined heat and power) plant has been taken offline while engineers repair the fault.
The company has apologised for any disturbance caused by the incident.
Local residents said they started hearing a loud "rushing" noise at around 7pm on Tuesday.
Susie Glover, who lives near the plant at the former Tullis Russell site, said: "It was still going on at 9.30am the next morning.
"The noise is deafening. It's a bit like living beside an airport runway and listening to jet engines taking off.
"It's a continual rushing noise.
"It's extremely loud, and woke me several times in the night.
"I could hear it though my double glazing."
The Scottish Environment Protection Agency (SEPA) said it was in contact with RWE Generation and was investigating the incident.
A SEPA spokesman said: "Every day SEPA works to protect and enhance Scotland's environment and we are clear that compliance is non-negotiable.
"SEPA received notification from RWE, the operator of the Markinch Biomass Plant, on Wednesday advising that they were in the process of carrying out a controlled shutdown at the site after a steam valve failure resulted in noise impacts to the local community.
"The site is currently expected to be offline for at least a week.
"We would advise members of the public to contact our 24-hour pollution hotline on 0800 807060 to report any potential pollution events."
RWE Generation said engineers worked overnight to investigate the issue.
A spokeswoman for the firm said the plant was brought offline "in a safe and controlled manner" on Wednesday morning.
"We are aware of an operational issue on our Markinch Biomass CHP plant," added the spokeswoman.
"As such there would appear to be an increase in plant noise release associated with the operation of the station.
"Full investigation by our technical team concluded that in order to resolve the issue, the plant would need to be shutdown to effect the necessary repair.
"We apologise for any disturbance or disruption this may have caused."