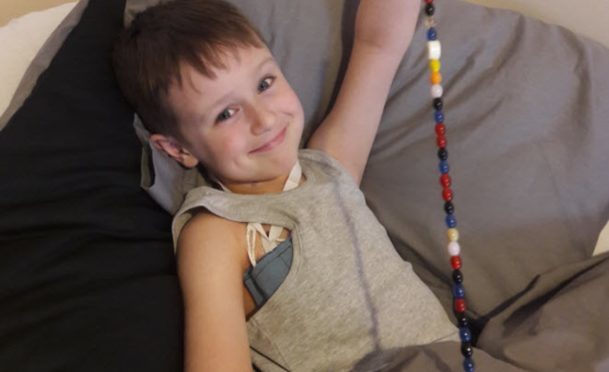 A three-year-old Fife girl is preparing to give her big brother the best Christmas present ever – the gift of life.
Charlotte Gartshore will donate stem cells to Michael, 8, as he continues his battle with the potentially life-threatening condition aplastic anaemia, a disease where all three blood cell types are deficient.
The Rosyth youngsters will each undergo a procedure next week, two months after the transplant was postponed when they fell ill with a virus.
Michael is already in hospital in Glasgow receiving intensive chemotherapy in preparation for the next stage of his treatment and his parents Tracy and Michael Snr hope he will be well enough to celebrate Christmas at home.
"We hope the wee man can wake up in his own bed on Christmas morning but that's not really what's important," said Tracy.
"We just want him healthy and to recover with no issues.
"It would be amazing to start 2019 with Michael's blood counts rising without transfusion."
The family launched an appeal for a stem cell donor after the Kings Road Primary pupil was diagnosed in April.
Dozens of generous strangers came forward for tests to see if they were eligible to donate before Charlotte was found to be an exact match.
Tracy said that while it was good news, both children still faced risks and Charlotte in particular would have to go through an invasive procedure.
"We then have to pray there are no adverse reactions and it's plain sailing from that point," she said.
Meanwhile, the 33-year-old has appealed for people to consider donating blood to help people like Michael who has had to receive blood transfusions once or even twice a week since his diagnosis.
As only 3% of eligible Scots currently give blood, she has urged as many people as possible to log on to the Scotblood website at www.scotblood.co.uk to find out more.
Tracy said it would be particularly useful if people donated platelets and added: "It would mean the world to my son who relies on these transfusions to stay alive."