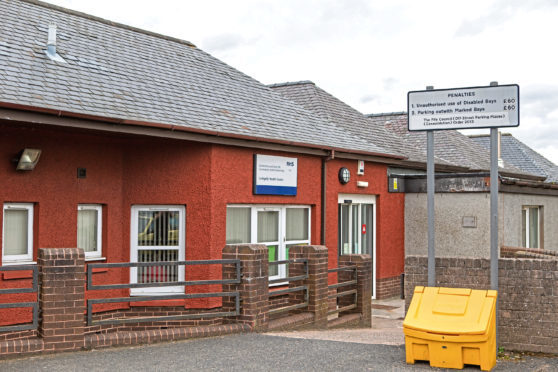 Eighteen GP practices across Fife have reported full patient lists amid claims of a UK-wide recruitment crisis.
Difficulties with employing family doctors are being experienced at seven practices, with two said to be in a high risk situation as GPs have left and replacements not found.
According to information received by The Courier one of the high risk surgeries, Dr Morris and Partners in Kirkcaldy, has been trying to recruit a doctor for two years without success, a second partner retired 21 months ago and a regular locum left recently.
Lochgelly Medical Practice is in a similar situation with just one GP running the practice with sporadic locum cover since the only other doctor resigned in October 2017.
Recruitment problems have also been reported at North Glen practice in Glenrothes, Kennoway Medical Group, Methilhaven in Methil, Inverkeithing Medical Group and Dr Mitchell and Partners in Kirkcaldy.
There are 73 GP practices in the region and NHS Fife has made it clear no patient will ever be left without a doctor in their local area.
But coming just after it was revealed an advert for out-of-hours GPs did not receive a single application, Labour MSP Claire Baker has branded the situation unacceptable and unsustainable.
"Fife is in the midst of a GP crisis," she said.
"Ultimately it is patients who will suffer as they struggle to get appointments."
The Mid Scotland and Fife MSP added: "Instead of taking charge, the Scottish Government and NHS Fife would rather dodge responsibility.
"We urgently need solutions to Fife's GP crisis."
NHS Fife medical director Dr Frances Elliot said the shortage of GPs across the UK was well documented and that like every other area, Fife was experiencing greater pressure on primary care services as a result.
While recruitment is carried out by individual practices rather than NHS Fife, Dr Elliot said the health board did work closely with them to offer as much support as possible.
"This includes work through the GP Sustainability Group which is chaired by the associate medical director of Fife Health and Social Care Partnership," she said.
Pharmacists, physiotherapists and mental health support workers are all being brought in to support doctors.
"In addition we are working closely with the Universities of St Andrews and Dundee…with a view not only to encourage future graduates to choose a career in general practice but also to do so here in Fife," Dr Elliot said.
A Scottish Government spokesperson said investment in the health service was at a record high and the plan was to increase the number of GPs by at least 800 over 10 years.
"This work includes increasing the number of medical places in Scottish universities to a record high of 1,038 and investing over £4 million over the next three years in a comprehensive marketing and recruitment campaign," he said.