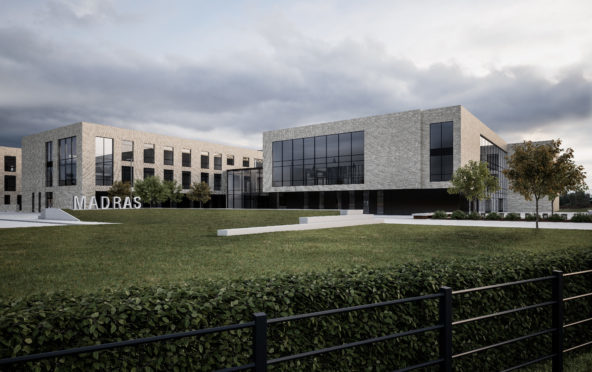 A long-awaited new secondary school for St Andrews could start to take shape early next year.
The planning application for the new Madras College is to be put to councillors for approval in early January.
Construction of the road to the site at Langlands has already started and it is hoped work on the three-storey building will follow in spring if the green light is given.
Fife Council aims to have the £50 million flagship school for up to 1,450 pupils ready for the 2020-21 academic year.
News the plans will be considered by Fife Council's north east planning committee on January 9, were hailed as a major breakthrough.
It had been feared there would be further delays in delivering the school, originally planned to replace the existing campuses in South Street and Kilrymont Road by 2012.
The council previously said that planning consent could only be issued after the complex master plan for the St Andrews West expansion was agreed.
North East Fife's Liberal Democrat MSP Willie Rennie said: "It's a relief that a way has been found to put the school planning application before the planning committee in January.
"The plan for the new school was in danger of slipping behind schedule.
---
---
"After years and years of delay we can't afford any more delay for the sake of pupils and education."
St Andrews Labour councillor Brian Thomson said it was "very encouraging" to hear the planning application is to be considered in January.
He said: "I know that concerns have been expressed within the community, understandably, about the time that it's taking for the planning application to be determined.
"However, it's a significant planning application that has to be properly assessed and, with it not possible to commence the main works to construct the new school until the access road is complete, the outstanding determination of the planning application is not currently delaying the project.
"Works on the access road appear to be progressing well and, assuming that the planning application is approved, I would hope that works on the new school could commence in spring 2019."
Pam Ewen, the council's interim chief officer for planning, said: "The planning application for the construction of a new secondary school in St Andrews is intended to be reported to the north east planning committee on January 9.
"Committee papers are currently being finalised and the agenda will be issued next week.
"The planning application for the wider St Andrews West development remains under consideration."