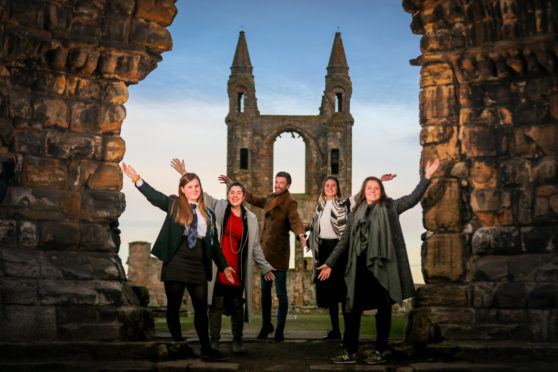 An international event being held in St Andrews this summer will truly cement the town's reputation as a global destination, organisers have said.
More than 500 women will descend on the Fife coast on Saturday June 15 when Pop in the City arrives in the UK for the first time.
Billed as a "feminine urban raid", it will feature teams of two tasked with completing up to 30 challenges around the town.
Organisers have revealed the St Andrews edition sold out within just five days – with 97% of participants, known as Popins, coming from outside the UK.
The event has been backed by BID St Andrews, Tourism St Andrews and St Andrews University, which will assist with accommodation alongside local hotels and B&Bs.
A special Pop In Village will also be set up in the town giving participants the chance to spend time with locals and discover local products and culture.
A team from France was in St Andrews yesterday to launch the event and scout out possible locations for challenges, although the nature of those will remain secret until the day itself.
"We have chosen St Andrews because we always pick destinations with great history and culture," Ninon Huguenin-Dezot, from Pop in the City, explained.
"St Andrews is known globally for golf and of course its royal connections, so all those aspects make the town very attractive for Pop in the City.
"We're very excited about it and our community was thrilled when we announced the destination because it was sold out within five days only."
Organisers are inviting local artists, craftsmen and business owners to be part of the spectacular.
A volunteer programme will be launched in the local community to find the 70-plus people needed to help the event run smoothly.
Teams will be asked to push their boundaries through five categories of challenges — sport, art, culture, extreme and charity.
Previous exploits have ranged from a giant death ride down the Atomium of Brussels to battles with real gladiators in the ancient arena in Nice.
Previous host venues including Porto, Bologna, Hamburg and Paris have all welcomed the exposure gained from Pop in the City, and the economic boost to St Andrews and Fife is expected to be signficant.
Jane Kennedy, from BID St Andrews, said: "The BID were instrumental in bringing the event to the UK for the first time and hope to introduce this amazing group of urban challengers to the people, the business and the culture of St Andrews and show how much we have to offer in addition to our world famous golf courses.
"Our hope is to develop an emotional bond and legacy with this year's Popins and give them a taste of what Fife, and St Andrews in particular, has to offer, and we will anticipate their return in future years as visitors, students and business women alike."