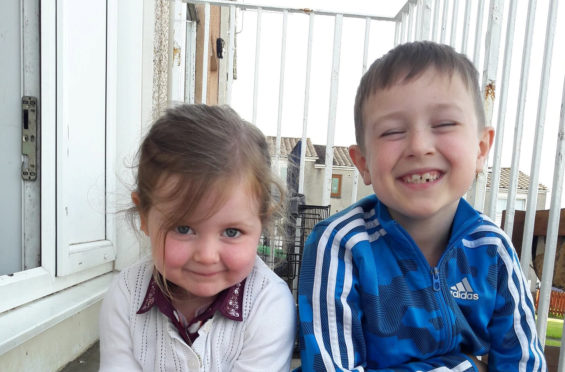 A nine-year-old Fife boy who received the gift of life from his younger sister has finally left hospital.
Brave Michael Gartshore, known as Wee Michael, is recovering well at home nearly three months after undergoing a stem cell transplant thanks to a donation from sister Charlotte, who was just three at the time.
The Rosyth youngster had beenclose to death before the procedure and mum Tracy said he might not be alive today had Charlotte not been an exact match.
Tracy has now called for as many volunteers as possible to sign up to a stem cell register through blood cancer charity DKMS, in the hope of giving other seriously ill children a similar chance of life.
"There are other bairns out there who desperately need a match to survive," she said.
"When Michael went into hospital his platelets were so low that if he'd bumped his head he could have had internal bleeding on the brain and died.
"Now, thanks to his transplant, we don't need to worry."
Michael was diagnosed in April with severe aplastic anaemia, a very rare condition in which the immune system mistakenly destroys bone marrow.
The Kings Road Primary pupil has endured months of invasive treatments, including blood transfusions once, or even twice, a week.
Even after his transplant on December 6, his medication caused further distressing symptoms.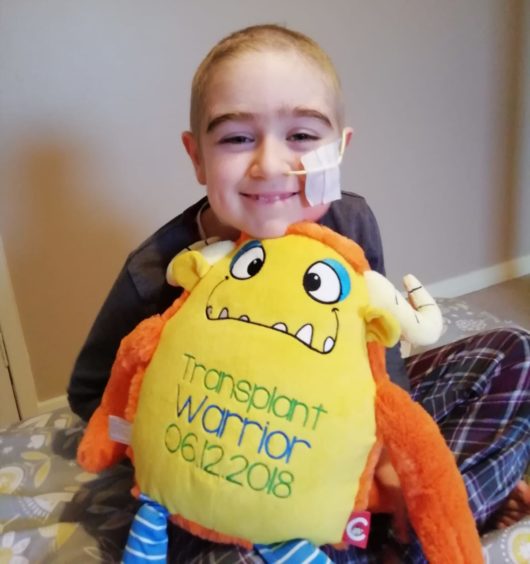 Tracy said she was keen to raise awareness of the condition and the need for donors in the run up to Aplastic Anaemia Awareness Day on Monday.
"We're pushing the message about the DKMS stem cell register," she said.
"I personally didn't really take a lot of notice of these things until it happened to my own family and then we found out that if people need to be tested to see if they're a match, it takes weeks to get the results.
"When it happens to someone you love it would be so much better if that match is already on the register. You could find out in an instant."
Further information on becoming a stem cell donor is available on the DKMS website at www.dkms.org.uk/en/register-now
Donor sister has "grown up a lot"
Tracy is so proud of the unflinching way Charlotte has dealt with her role as stem cell donor that she has nominated her for an unsung hero award.
The Rosyth mum-of-four said her four-year-old daughter had grown up immeasurably since she stepped up to save her big brother's life.
Although it was Michael who was ill, Charlotte had to go through a painful and invasive procedure as her stem cells were harvested by medics.
"She was the baby of the family and was used to my attention," said Tracy.
"She could be really clingy but now it's like she's a different person. She's grown up a lot."
She added: "Everybody makes a fuss of Michael but if it wasn't for Charlotte, Michael might not be sitting here."
Charlotte has now been put forward in the unsung hero category at this year's Kingdom FM local hero awards, which take place in the summer.
"She really deserves it," said Tracy. "We'll never be able to pay her back for what she's done."