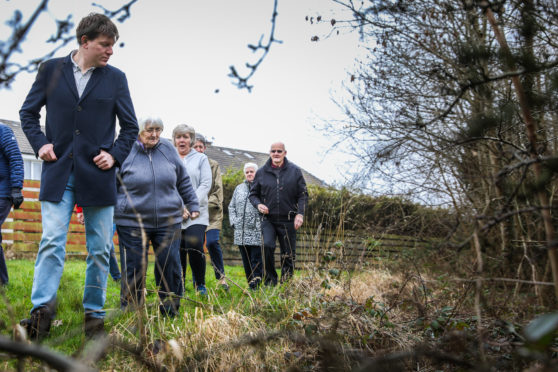 Fife Council has told Pitcorthie residents there is "no odour" at a local burn despite complaints being investigated by Scottish Water and an environmental regulator.
For the past month, residents in the Pitcorthie area have been complaining about a stench coming from the Whinny Burn.
Scottish Water said it was likely waste pipes from nearby houses had been wrongly connected to the surface water network, meaning sewage was being diverted into the burn.
The Scottish Environment Protection Agency (SEPA) has taken samples for analysis.
Derek Crowe, senior manager for roads and transportation services at the council, denied there was an issue.
He said: "Officers have visited the area and we can reassure local people that currently there is no odour and no public health issue that needs addressed.
"However, Fife Council will continue to monitor the area, including the drainage system under the adopted road."
Liberal Democrat councillor for Dunfermline South James Calder said the problem had gone on for "unacceptably long".
He said if the smell was caused by sewage, the contamination should with dealt with as a priority to safeguard public health.
Residents in the area recently reported rats in the area.
Ann Kay, acting secretary of South Dunfermline Community Council, said: "The burn hasn't been cleaned for a long time by the council.
"Residents have been phoning them and asking them to clean it but nothing ever happens.
"It needs to be cleaned before summer because the smell is only going to get worse and if there is contamination, there is a risk it could cause illness."
A spokesperson for Scottish Water said: "Through our continued investigations into odours in the Pitcorthie burn, we have located some possible cross connections from private properties into the surface water network rather than the foul water network.
"We are carrying out further tests to make sure these properties are the source. If so, we will advise the property owners of how best to rectify this going forward."
SEPA said it had been working with Scottish Water and the council to look into the problem.
"SEPA officers, following engagement with Fife Council and Scottish Water, have attended the site and taken samples to help identify the cause of the pollution," said a spokesperson.
"The samples are currently being analysed. We would advise members of the public to contact our 24-hour pollution hotline on 0800 807060 to report all potential pollution events."