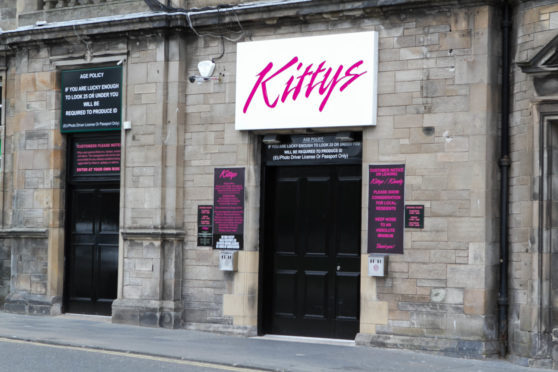 Police are investigating after a man was struck by a van in an alleged hit and run incident outside a nightclub in Fife late on Thursday night.
Eyewitnesses have suggested that a white van mounted the pavement, struck a man and then a wall outside Kitty's nightclub on Hunter Street, Kirkcaldy, shortly after 11pm before driving off.
It is understood the 46-year-old man involved was taken to Kirkcaldy's Victoria Hospital with minor injuries after being treated at the scene by paramedics.
Some onlookers have reported seeing the vehicle in question travelling south along Wemyssfield from the direction of the Esso garage before appearing to speed up and mount the pavement.
A number of other pedestrians were said to have been outside Kitty's at the time and narrowly avoided being hit.
"It was just driving normally then it suddenly turned towards the club and put the foot down," one said.
"It came right on to the pavement and hit the guy and then hit the wall.
"There were four people standing outside – If it hadn't hit the wall it would have ploughed into all of them.
"If it had been busier it could have hit more people.
"Why would someone do that?"
A Police Scotland spokesperson confirmed: "Police in Fife were called to a premises in Hunter Street, Kirkcaldy, after a vehicle mounted the pavement and struck a man before leaving the scene.
"The incident happened at around 11.20pm on Thursday March 14.
"A 52-year-old man was treated at the scene for minor injuries.
"Inquiries are ongoing and officers are following a positive line of enquiry."
It is thought the van continued travelling on the road towards the direction of the bus station.
CCTV footage from the nightclub will be looked at as part of the investigation, and local officers have urged anyone who may have seen the incident or the vehicle in question to contact 101.