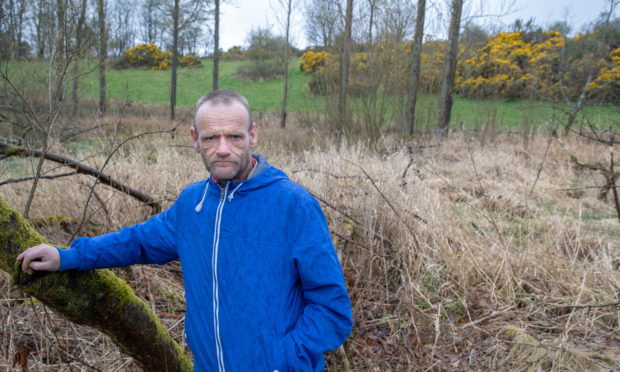 A baby deer had to be euthanized after being mauled by an out of control dog in Fife.
The stricken animal was discovered on a pathway in woodland near Lochore Meadows.
Jason David, told how he came across the animal as he walked his own dog and was horrified to discover it had suffered two broken legs.
The Scottish SPCA were called to the scene and were forced to put the animal to sleep to prevent further suffering from its extensive injuries.
Dog owners are being urged to keep their pets under control and on a leash when other animals are around.
Mr David, 46, said: "It was actually quite horrific, especially after I found out what injuries the deer actually had. I was actually walking my dog in the woods at the back of my house.
"I was less than 10 feet away from the deer and of thought there was something wrong with it when it never moved to run away from me.
"It was just lying there, trying to take cover. The man from the SSPCA came round with another man who I think worked at Lochore Meadows.
"That's when I realised that the deer was actually injured pretty badly. They said to me that I'd be better keeping walking because he was going to have to put the deer to sleep.
"That's when he told me it had been attacked by a dog and what injuries it had suffered. It was trying to get away from them when they walked over to it but it couldn't get up.
"It had a couple of broken back legs. It was dragging itself, more or less, which is why they had to put it to sleep then and there.
---
>> Keep up to date with the latest news with The Courier newsletter
---
"It is absolutely shocking that somebody let their dog do this. I personally think that dogs should be on a leash all the time anyway.
"It's actually disgusted me. I was down that way for about 15 minutes before the SSPCA man arrived.
"I think somebody had been out walking because there's a lot of ramblers who use those woods and they had found it and gone to the centre to report it.
"I would like dog owners to keep them on leads and if they see something like this happening, to call the police because something like this should never happen."
Scottish SPCA animal rescue officer Ian Burlinson also issued a reminder to dog owners to keep their animals under control.
He said: "We were sadly called to Lochore Meadows on Tuesday morning after a young deer was attacked by a dog.
"The deer had a badly injured back end and was sadly put to sleep to prevent further suffering.
"Incidents like this prove as a sad yet important reminder as to why dog owners have a responsibility to keep their dog under control at all times, especially when there are other animals around."