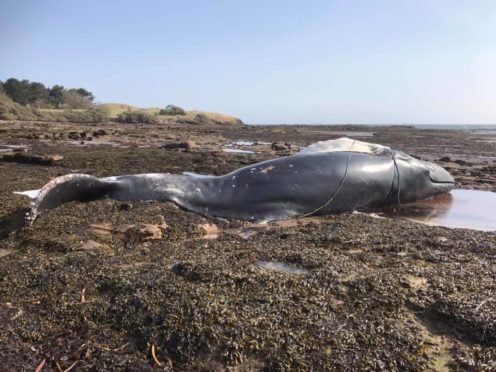 An entangled humpback whale spotted in the Forth has been found washed up dead on an East Lothian beach.
It had been hoped the animal, which was caught up in fishing gear, could be freed after it was seen off the coast of Fife last month.
But specialist teams from British Divers Marine Life Rescue (BDMLR) were unable to get close enough to the nine metre long mammal to set it free.
The emaciated body of the young male whale was discovered at the coast near Tyninghame in East Lothian on Tuesday morning.
Unfortunately there is a dead humpback whale at Tyninghame. Whilst we appreciate people are interested to see it we do ask that you stay back from the carcass for health and safety reasons. We are aiming to remove it from the beach later this evening. pic.twitter.com/wya4INmRlR

— ELC Countryside Rangers (@ELCrangers) April 23, 2019
Chords wrapped around the whale's head and pectoral fin prevented it from being able to feed, contributing to its death.
The whale was identified as the same animal seen some weeks ago off the coast of Fife by its fluke, or tail, which is unique to each individual.
It was estimated to be around a year old.
Humpbacks are weaned by a year old and it is not known if the juvenile whale had been with its mother.
East Lothian Council Countryside Rangers warned members of the public to stay away from the carcass for their own safety.
The whale was set to be moved on Tuesday evening to an undisclosed location, with the Scottish Marine Animal Stranding Scheme set to carry out a necropsy on the carcass on Wednesday.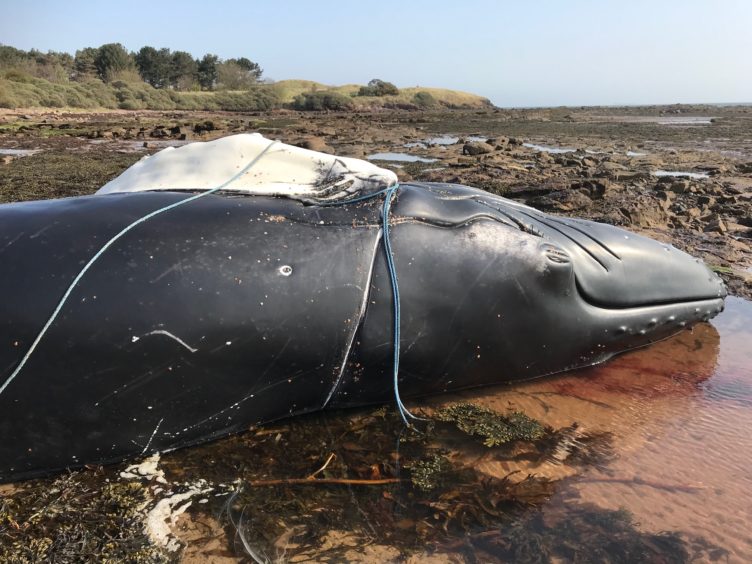 Julia Cable from BDMLR said: "It's just very sad. This was such a young whale.
"Humpbacks are the ones that tend to get entangled more than others.
"This will have affected its feeding. The line is wrapped around the top of its head, its jaw and around its pectoral.
"It was able to open its mouth to a small extent but humpbacks are baleen whales and need to be able to open their mouths fully.
"It was very thin."